It is still like a dream, a dream that makes you extraordinarily happy when you awake from it. Was it reality or will it remain a fantasy of our nightly mind games? One can be never be sure of it. In a dream, we experience everything so fast that we are not able to recall every little detail of the lined up events.
In the middle of Marrakech's Medina, we are walking along the dark, narrow alleys. Around us the penetrating odors of aromaticspices, the smell of animal bodies that hang in front of little stores, fumes of mopeds and then a salivent barebecue flavour which lies heavily in the muggy air. Half nasty, half pleasant. Temperatures between 43 to 50 degrees during the day, in the evening it sanks to estimated 25 to 30 degrees. The heat is hardly bearable, but after a while, one gets used to it.
Since it is Ramadan, people stay in their small and fragile loam houses at midday, but as soon as it gets dark, crowds storm out to the notorious square Djema El-Fna to meet friends, family and to grab some food. For hundred of years, the square has been a marketplace for tourists and locals. It is the perfect place to get lost in the cultural lifestyle of Morocco. Here, one can watch serpent charmers, find open-air restaurants, music shows, dancers, clothes, souvenirs and even trained Berber monkeys.
A pure sensor overlad. It seems tobe a completely different world. Things, we have experienced and learned from the Moroccans, we would never forget.
Day 1: Marrakech
Where to Look for Flights to Morocco
After four hours of flight from Frankfurt, we arrive at the RAK airport in Marrakech. For the whole flight, we paid 60€ per person – a real trave
l bargains. If you're looking for cheap flights within Europe, you should definitely check out the Ryan Air Homepage. If you choose to fly with RyanAir, you should consider that it is only allowed to carry two handluggages with you: a small one (max. 35x20x20cm) and a big one (max. 55x40x20cm), which must weight under 10 kg. Additional baggages will cost you extra money – however I think those 2 handluggages are absolutely enough, if you aren't planning stay longer than two weeks.
The RAK airport in Marrakesch only lies about 15 minutes from the Marrakesch city center. You can get there easily by bus or taxi. The bus arrives every half an hour and costs 30DH (ca. 3€) per Person, while taxis cost about 70 DH to 100 DH (ca.7€ – 10€) per Person.
Important: Before you get into a taxi you should always agree on the prices beforehand!
Where to Stay in Marrakech
Our accomodation, Ryad Laârouss lies about 15 minutes from the airport in the middle of the Medina. Riyadhs are traditional downton Moroccon houses with courtyards which are furnished in the typical Moroccon style. The views of the guestrooms most times point in direcion of the courtyard; moreover Ryiads often have a roofgarden with swimming pool. They offer guests an authentic Moroccon ambience.
Here are some pictures of the Riyad where were stayed:
If you are planning to stay in Morocco, I would suggest to stay in a Riyad instead of a hotel.
The Crazy Traffic in Marrakech
The taxi ride is a real adventure. Most Moroccans care less about traffic laws and drive totally arbitrarily. Although the street is very broad, mopeds nearly swipe our car, men riding donkeys are suddenly directly next to us and other vehicles quickly pass us before we can even see them coming. Our taxi driver uses every opportunity to honk vociferously.
Admittedly, our hearts were racing in the first moment, but afterwards we are totally astonished how well the traffic works, although traffic laws seem to be a minor matter.
But also walking through the Souks (Souks are commercial quarters in a special area which are very common in Arab cities), one has to watch out for mopeds because they often drive too fast and the alleys are very crowded and narrow.
Distinguish between Sellers and Persons Who Really Want to Get to know You
In the souks, people are sitting in front of their small shops or aground, trying to sell their stuff or begging for money. The alleys are very windy and appear like a huge labyrinth. We seem to look quite lost. After five minutes, a seemingly friendly man welcomes us warmly and asks us for our plans in Marrakech. He is very talkative and is very interested in us. He would like to know where we are coming from and what led us to Marrakech.
I am always happy whenever people talk to me just like that. But he has ulterior motives, namely to lead us to his friend's spice shop to make us buy something. Actually, we have already known beforehand that he tries to earn some extra money, but at the moment, we are too tired and get involved with him. Maybe because we found him very nice in the first moment, but also because we are not familiar with such situations.
While we are walking after the unknown man, the first thing that catches my eyes are all the cat gangs that are hanging around in the dark corners. I feel like in paradise (you know how much I love cats).
When we reach the small spice store, the shopkeeper presents us many different seasonings of which we have never heard of before. The prices are very low, e.g. 3 Grams saffron only cost 20DH (ca. 2,00€). We are curious and find it interesting to see all the different spices, but feel a bit uncomfortable because the retailer is quite intrusive. That is why we tell him that we won't buy anything for the moment, but maybe to come back again. Then we leave his shop.
Thereupon, the man who accompanied us demands 100DH (10,00€). When we tell him that we will not give him more than 20DH (because we haven't asked for his advice), he turns angry and yells that 100DH wouldn't be much for people like us (namely people from the West). Other Moroccans standing behind us who have observed the situation, shake their heads and try to show us not to give him any money at all. But since we want to move on to Djema El-Fna and do not plan to have a long discussion with him, we give him 20 DH which he takes aggressively.
Food stands at Djema El-Fna
At Djema El-Fna, the situation is not getting better. From all sides, merchants try to lure us to their food stands. They are very stubborn and even run after us to show us their menu. Each food stand has its own number, so it is not unusual to hear:
"Remember number 36! This is the best food you'll get at Djema El-Fna; you won't regret it!"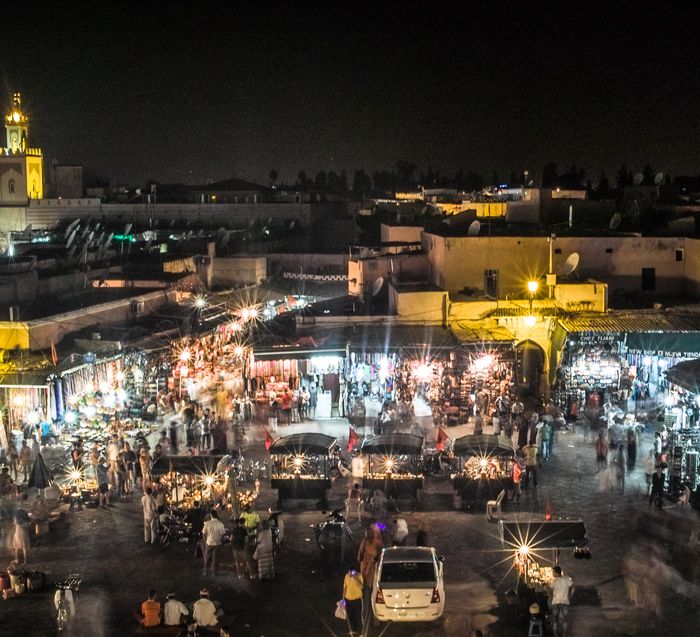 From everywhere, there is the delicious smell of grills. We decide to go back to the first stand as there are sitting most of the people. If you order something, it is typical to get a breadbasket with two red sauces as a supplement (without ordering it). Kuno orders a Tanjine, a classical Berber/North African stew. Usually, its ingredients include meat (chicken, beef, lamb etc) and vegetables. I take a vegetable Couscous with Moroccan salad (tomatoes, onions and sometimes cucumber/pepper).
You should definitely try the different kinds of Tanjines when you are in Morocco. They taste very special and are super delicious!
For the whole menu, we only pay about 50DH (ca. 5,00€). After the meal, we allow ourselves the notorious orange juice of Marrakech for 4DH (0,40€) at a juice stand. These stands can be found everywhere in the Medina.
Ambivalent Impressions After Our First Day
Satisfied and exhausted, we try to head back to our Riad, but get lost again. Therefore, we are asking a Moroccan boy to show us the way back and give him some money because we just want to be in bed as soon as possible. My feet hurt, my ears feel strange from the flight and my boyfriend has a headache. For the first day, this should be enough. Until now, I'm a little confused. I am not really sure, whether I should look forward to the next days. There were too much impressions at once. It was quite stressful to walk around in the Souks and trying to get rid of the intrusive merchants all the time. I absolutely understand that people don't have much money here and therefore rely for a huge part on tourists to make economy work. Nevertheless, at a point, it becomes simply exhausting to walk around if everyone just tries to sell thheir stuff to you . Let's just hope that it will get better.
If only I had known at that moment, that the next days would become the most beautiful, memorable days in my life.
Day 2: Traditional Hamam "Spa" and Couchsurfer Meeting with Aimad
This morning, we feel much better when waking up. We want to go on adventures, discover Marrakech with new eyes, let ourselves gofor the next six days.
Until the evening, we walk around in the Souks. There are far less people on the street than yesterday. The heat is very oppressive, especially with long clothings. I don't wear shorter clothes because it is Ramadan and it is unusual that women show too much skin here. Therefore, I try to adjust to their culture.
The Moroccans on thestreet barely talk to us, most of them relax. They sit or lie infront of their small shops in the shadows, fan themselves or take a siesta. There are craftsmen painting their shops or repair their fragile houses. Only when we come to a central market, there are more people.
My First Hammam Experience
In the evening we try "Hammam". Nowadays, it is known as a method of relaxiation, comparable to the sauna or steam bath. But in the Islam, it also has a  religious significance: in this sense, Hammam is an ablution which takes place before praying or before going to the Mosque.
A few doors down from our Riad, there is a classical Hammam for Moslems (Hammam for men and for women are of course separated). It is quite plain; from the outside one would not expect that there is a Hammam "spa". When entering the room, three women sit on the floor and stare at me. I think they are not used to tourists coming to their place, because normally tourists visit bigger spas if they are just looking for wellness.
I explain that I want to be washed.
I feel a little awkward because there are other naked women and girls in the room scrutinizing me. One of the elder women that sits at the entrance, signals me to take off all of my clothes. I am a bit haphazard because it is a very unfamiliar situation and I do not really know what will happen next. But then, she also undresses herself,
takes me by the hand and drags me to another gloomy, moist room.
There, she fills two buckets of water, a cold one and a hot one, lays me down on the floor and starts scrubbing my whole body with a rough washcloth. The flavor of the Hamam soap smells weird, but at the same time somehow pleasant. After that, she swills the soap down from my body with the buckets of water and repeats this process of scrubbing and washing-up about three times. When she is finished, she takes my arms and crosses them behind my back and then on my front side. This is painful; it feels like each bone of my arms are breaking. Just recently, a friend told me that this was a method of "relaxing".
After 15 minutes, my skin is completely reddened and we walk back to the changing room, where I get dressed again. Another woman was arriving while I in the Hamam room. I notice that they are talking about me. If only I could understand them. The elder woman smiles at me and says goodbye.
Looking like a drowned rat and a little bit confused, I walk out of the Hamam. My hair is completely wet, but I have a big smile on my face. This was an experience I would never forget. And I can assure that the classical Hamam is nothing for sissies! ;)
Our first Couchsurfer Meeting with Aimad at Djema El Fna
For 10 p.m., we arrange a couchsurfer meeting with Aimad and his friend on the deck of "Café France" at Djema El-Fna. I am looking forward to meet him because we have been writing on Facebook for some time, after I contacted him on Couchsurfing and asked him whether he could show Kuno and me around.
We decide to play billards at a gambling hall they know. There is loud music upstairs, and a lot of young Moroccans at our age who smoke, drink and laugh with each other. Sad to say that I am a total wimp in billard, so we leave the hall after one game and look for something to eat at a small restaurant.
It was my first couchsurfer meeting outside Germany, and we enjoyed our time with both of the guys. Unfortunately, time was too short because Aimad had another meeting with his friends. As Kuno and I want to be fit for the next day we take a taxi back to Djema El-Fna.
Day 3: With the Moped Through (the Slums) of Marrakech
Our hotelier, Mohammed is simply the best. When we ask him whether he knew an affordable moped renting agency, he suddenly offers us to use his moped for free. We cannot believe that he is serious because we have never driven on a Moroccon moped before – not to think about the crazy traffic in Marrakech. However, he's sure about his decision and tells us that we are his friends and that he trusts us. We should just bring back the moped in the evening and should not drive too far away from the Medina.
Mohammed shows Kuno everything necessary about the handling, and after 20 minutes we are already driving across the Medina. I feel the hot air in my face, my hair is blowing in the wind. Other cars and mopeds overtake us the whole time, but we do not want to drive faster as long as we have not gotten used to the unpredictable traffic. Especially in the Souks, we have to watch out for pedestrians and other mopeds who flash out of the back alleys. But when we come to the main road, my boyfriend accelerates and we quickly drive past palm trees and beautiful loam houses.
The Slums in Marrakech
After a while, we discover sand hills at the end street. They look mysterious, so we cannot stop ourselves driving them up to seewhat is up there. The path is very bumpy and stony. Moreover, it is very windy up here.
My sunhat flies away so that I have to run afterit up the hill to catch it. All around us, there is garbage. We sea flock of goats and sheeps being guarded by some watch dogs. Far away, there stands a man with an old hat and ragged clothes staring at us. He must be the shepherd. As we do not want to disturb him, we drive further up, until we seeAn impressing but simultaneously upsetting image in front of us. There is a huge slum (a poor district of a city).
Children are playing with animals, there are women carrying cisterns on their heads and people who are sitting on the street in front of their houses talking with each other. The ghetto is big and very rundown – everything is gray, and dull, you can see the smog in the air. The situation here is barely comparable to the Souks in the Medina. It all looks more miserable and far poorer.
I sit there with Kuno observing the people for a while; no one is saying a word. No matter where we look around, there are bin bags and old residual wastes flying with the wind.
A short way off, there are evenmore animals. Horses that are standing under tents and again goatherds. A cat gazes out of the tent and a lamb is running around in the storm, searching for its flock. Now it is even that windy, that
we can hardly see anything because sand and rubbish are flying around. I have to close my eyes. Further afar, there are dark clouds, so we decide to drive back downtown.
Not far from the Souks of Medina, there are located many richerareas with superb mansions and formidable properties. However, most of the villas seem to be uninhabited and just serve as presentation.
When it dawns, we head back to our Riad after filling up the moped tank. We are surprised how less fuel the moped consumed. We would like to give Mohammed some money for him lending us his moped, but he refuses. He tells us that we are his friends and he des not want to take anything from us. He even offers us to lend us his moped next time, when we'll come back again.
If you read this anytime, Mohammed: thank you, you are an awesome hotelier! We had so much luck to stay in this Riad. And we are sure that we would go back there again anytime.
Day 4: From Marrakech across the Atlas Mountains to Couchsurfer Omar in Zagora
Today is the checkout day of our Riad in Marrakech. In three hours, we have to leave our room – and we still do not have any plans for the following days. Yesterday, I posted a status on Couchsurfing, whether someone was free to offer us his/her couch in Agadir or Essaouira because I would like to meet with Jamal, a Couchsurfer I had contat with for over three months now. Unfortunately, he has to work the next days and is not able to host us. There are some other people who wrote a message on couchsurfing offering to show us around in Essaouira or Agadir, but none of them has a sleeping opportunity.
We Get Spontaneously a Couchsurfer Offering for Zagora
The only person whose couch is available is that of Omar, a 26-years-old guy from Zagora, an oasis town lying about 363km from Marrakech in the Morocco's southeastern region, Souss-Massa-Daraâ. This place is on the directly opposite site of Essaouira or Agadir – so actually not a destination where we planned to go to. Nevertheless, Omar's message sounds very auspicious as he promises to show us the non-touristic life of Morocco.
His family are real Berbers and his uncle as well as his friends offer Sahara tours for a good price. When I call him, he reassures that it was no problem if we stayed on his couch for a few days. Now we only have to get tickets for the Supra tour bus which is a bus organization for long-distanced travels in time. From Marrakech to Zagora, the price is 130DH (13,00€) – more than fair. But as fate willed, the bus is fully booked until next week.
What now? Staying for another three days in Marrakech and book the bus for Monday? Contacting more couchsurfers in Agadir/Essouira and ask whether they can host us? There is one problem: I am short of money, so I could not afford to stay for the rest four days in a hotel.
How to Get to Zagora? Plan B: Crossing the Atlas Mountains With a Rental Car
Suddenly, Kuno has THE plan: we are gonna rent a car for three days and drive by ourselves to Zagora! We get an excellent offering: a Souzouki Swift for 400DH a day, with air conditioning. Three days are 600DH per person. The car has no GPS-system, but who needs GPS when we have a map for whole Morocoo.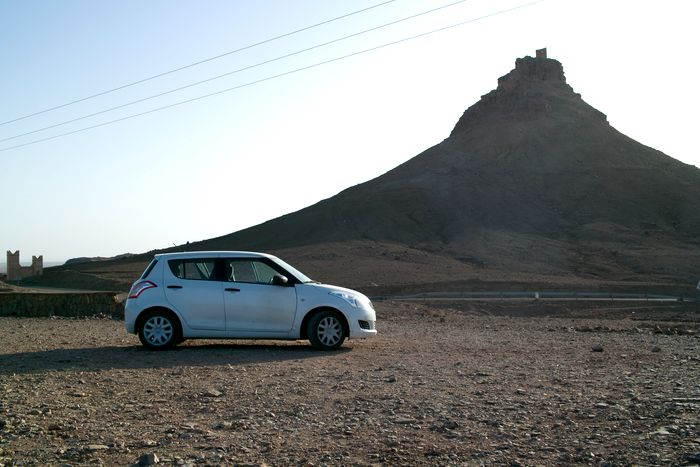 Our car renter warns us that the road to Zagora will be "très dangereux, ne pas bien!" (transl.: very dangerous, not good), because we have to cross narrow paths in the Atlas Mountains which are the only way to Zagora. He advises us to better drive to Agadir because the route to the beach was in contradiction to Zagora "très bien et facile" (transl.: very good and easy to drive).
We are not crazy or insane, just adventurous people. After our renter's warning we HAD to drive to Zagora, now even more than ever. Luckily, one can hardly get lost on the way from Marrakech to Zagora because there is only one main path leading to Zagora through the Atlas Mountains. Therefore, it should be no problem with our super map.
How did Guy Laliberté say?
Life is full of adventure. There's no such thing as a clear pathway.
And he was totally right.
#Learning 1: As a Tourist in Morocco, One Has to Be Careful With the Police.
When we are just before the Atlas Mountains, all of a sudden we get stopped by the Moroccan police who makes a sign to halt at the side stripe. The officer asks for our car documents and tells us that Kuno did not halt for three seconds at a stop shield. This was reason enough for him to claim cheeky 7500DH from us. I cannot remember a moment in my life where my heart dropped into my guts like in this second. Excuse me? 7500DH for overdriving a stop shield? He must be kidding. And maybe he does because he smiles.
But when he writes the single figures on our side mirror, we know that he is serious. Very serious Holy shit. Kuno pulls out his portemonnaie. There are only 20DH in his pocket. Ridiculous 20DH that saved our ass. The police officer slowly understands that this is the only money we have, so he is "gracious" and lets us go. I swear, I habe never been so happy to be poor.
Driving Across the Atlas Mountains
The landscapes in the Atlas Mountains are dazzling. And they change every 15 minutes. I do not want to miss any single moment. First, the mountains are overgrown with trees in every different colours; the next second there are nothing but multicolored rocks.
About every 20km, there are tiny Berber villages. I imagine, how it was like to live there, totally isolated from civilization. Without cars they are not able to move to other places. I think they depend much on each other. Everyone is responsible for the whole community, they must be closely connected to make life work here. Life cannot be as anonymous as in bigger areas – on the contrary, they must know each other very well. I somehow admire the people who live there, and wonder whether they are lucky.
#Learning 2: As a Tourist, NEVER Put Much Money Into Your Wallet When You Are On the Road With a Car.
I should mention that we are stopped by the police a second time. Since it is 21p.m., it is already dark. In front of us, there is a car which suddenly brakes sharply which is quite dangerous because there is no good lighting in the Atlas Mountains. Therefore, we can hardly see anything. Since the car before us stops so abruptly, we have to
dodge it by swerving to the right.
And again, the lovely police. Déja-vu. And this time, he even has a better reason to stop us. So, the same procedure: car documents, and again a fine. I do not know the exact amount anymore, but it was again something about 7000DH. But this time, we know what to do. Kuno shows his empty portmonaie with 20DH again, making clear that we do not have more money. We tell him that our journey goes to Zagora, that we will meet there with a couchsurfer and that we already had more than 6 hours of travel. The reason for our negligence. We apologize a thousand times.
Since the police first does not let up, my boyfriend suggests him to write a ticket so that he can transfer the fine in Germany. Of course the police cannot do this because his high demand for mqoney is actually "illegal". A Moroccan would never pay 7000DH for such a slight negligence. On this account, he lets us go. And again: saved by the bell.
but
Arrival in Zagora and Overnight Stay in a Normad House
It takes about 6 1/2 hours to cross the whole Atlas Mountains to Zagora. Now, we are in Quarzazate (Arabic proncounciation: Warzazat), the next biggest city besides Marrakech on the route to Zagora. The last two hours of our journey, I fall asleep. One cannot see anything of the landscapes anyway because it is too gloomy outside.
Finally, at 1 a.m., we are crossing the city boundary of Zagora. Omar and his friend are already expecting us at the Afriquian gasoline station. We takes us to a hotel of his friend, where we also meet some other friends of him. They invite us to some delicious Berber Whiskey, an original Berber mint tea and to eat Tanjine with them. Omar and his friends seem to be very nice guys; we feel comfortable in their company.
It is already late, so after the meal, Omar leads us to his home. He has tw ohouses in Zagora: the main house lies in the center, while the other one is located outside of it. However, he prefers the isolated one because he tells us it is a Normad house, where most of his couchsurfers stay overnight. We drive 15 minutes along small cartways. This area is very far-off, there are just a few other houses behind rustic walls, and again straying dogs, cats, horses, camels and donkeys.
We park in front of his "house". Omar opens the door to his home and we enter a dark, huge garden. Unfortunately, I see less because there are no lights. Inside his house, we also have to use flashlights because there is no electricity at night. I am totally impressed by the way he lives here. It is not that his house has great furniture or beautiful paintings – no, it is the emptiness that I like the most.
There is really nothing inside of his house except for some mattresses for his couchsurfers, a small table with some chairs inside the living room and a kitchen out of stone which he built himself. In the adjoining room there is a small "bathroom" with a toilet and a tiny shower. Everywhere, there are spider webs. The rooms do not have any flooring, just gravelly soil. The house does not even has a roof.
We have the choice in which room to sleep. We choose to sleep outside on the roof garden and carry the overnight stuff upstairs. I lie my mattress next to Kuno's and Omar lies some meters next to us.
I cannot believe that we are sleeping on a roofgarden of a Nomad house after having crossed the Atlas Mountains with a map. That we escaped the police several times successfully and ended up near the Sahara instead of at the beach in Essaouira or Agadir, where we actually planned to go to. It is silent up here, just sometimes one hears the barking of dogs, the chirping of crickets and every now and then a loud "I-AAH" from some donkeys. The wind from the palm trees are blowing fresh air; the temperature is pleasant. And the night sky is breathtaking; it is so clear that one can see every single star and the Milky way. I have never seen anything like this before.
Tonight, I am the luckiest girl on earth. It does not need more than a wonderful boyfriend, a daring adventure and a plae to sleep. Life cannot get any better.
Day 5: Meeting Omar's Berber Family and Camping in the Sahara
At 7a.m. I wake up. The heat of the sun is already so unbearable that I stand up and go downstairs to the living room (= two tabourets, one small table) . Omar is already awake, brewing Berber Whiskey. After taking a cold shower, we drive to his uncle whose house lies in the center of Zagora.
When we enter the tiny living room, seven of his family members are sitting on the floor and watch TV. The room is very gloomy; there is only little light coming in from the shaft at the ceiling. His family extends a warm welcome to us, offers us over and over Berber tea and little Moroccan snacks. We hang around at their house until midday.
#Learning 3: Try Not To Have a Bad Conscious If You Don't Buy Anything from Moroccon Sellers
At midday, Omar shows us around. We drive to the slums visiting one of his old acquaintances who works as a jewelry designer. Omar entrusts us not to let ourselves accosted by beggars and not to buy anything if we do not want to.
We knock at the door of the jewelry designer. He has a warm smile and leads us to a fireplace where he produces handcrafted compasses and jewelry. He shows us every single step of the production – how amazing how Moroccons come along without all those modern techniques.
When he is finished, he shows us his jewelry vitrines and offers us some Berber Whiskey. Certainly, he hopes that we will buy anything from him. As you already know, Moroccon sellers can be very persistent. He talks a lot with us and pours us in some tea over and over again. I feel uncomfortable because for me, it is clear that I could not afford to buy anything. Most of the prices are from 30€ to 50€ which is, in my opinion, absolutely okay because people have worked very hard for it – however, I do not want to spend my money for jewelrey that I probably would never wear.
However, I always have a bad conscious when I do not buy anything of their stuff because they are obviously poorer than we are. I know that it is not our obligation to buy anything only because there was a friendly seller who showed us around.
But how could I change my way of thinking about that?
Tipp
In the end, you must simply see it as the job of the sellers to sell something. They will be persistent with all of their customers and there will be enough customers who will buy their stuff. Customers, who will buy it because they really like it and are able to make use of it.
It doesn't mean that I don't appreciate their work if I don't buy anything. I find their handiwork very admiring.
It's senseless to buy something just because I have bad conscious. If I would buy everything because of my bad conscious, all the Moroccon shops would probably be empty now. ;)
So I tried to distance myself emotionally from the sellers. I first had to get used to it, but after a few days, it will be okay.
Sahara Tour: Camping in the Sahara Under Million of Stars
I think it was in Zagora, where I saw for the first time an oasis. Meanwhile, it got very hot: it's about 51 degrees.
We drive back to the house of Omar's family, where they have already prepared Tanjine for us. I find that very sweet of them because it is Ramadan and the family members themselves would not even eat anything – they just cooked it for Kuno and me. I appreciate their great hospitatlity
After the meal, Omar's uncle shows us some photos of his two-months journey within the Sahara. His eyes are shining, when he tells us about his adventure. He enjoys the simple Nomad life very much – a life where you actually do not have a home and just wander around, are independent from materialistic goods and try to be just with yourself and nature. How I admire this kind of lifestyle. The ability of these people to enjoy the simplicities of life. Wouldn't we be much happier? And if we have already enjoyed all the luxuries of our modern culture – could we ever lead a Nomad life in happiness?
Questions upon Questions. Maybe I will find it out someday.
Today we would already get a foretaste to the Nomad Life. Omar's uncle offers us a tour to the Sahara for only 250DH (25,00€) each person. Including two camels, a personal desert guide, dinner, breakfast and camping.
At dusk, we hit the road. It's 80km to drive from Zagora to the desert. Omar accompanies us to the meeting point with our guide Mohammed, but then drives back home because he won't have any time this evening. Mohammed is already waiting for us with two camels, a white one and a brown one.
This is my first time that I sit on a camel and I cannot believe how uncomfortable it is. Already after 20 minutes, I have to descend because everything hurts. We still need about 1 1/2 hours to the camp and I walk after our the two camels and our guide. Mohammed walks way too fast and I am out of breath after a few minutes. After a few steps, I decide to get on the camel again. ;(
Our camp lies in the middle of the dunes. There is nothing but sand around us. Meanwhile it is already dark. In front of a tent, there is already sitting a French pair who is traveling through Morocco as well. They are really funny and sympathetic guys and we have good conversations with them, while we are waiting for our dinner which gets prepared by three of the desert guides. It is quite amusing to eavesdrop them while they prepare the food because they are discussing vociferous in Arabic about things we do not understand. It is a certain way – in a very sympathetic manner – Moroccans argue with each other with wild gesticulations and a lot of temper. Sometimes, one can observe them throwing items around. The discussion of our guides continues about 15 minutes, then there's silence.
I walk barefoot with Kuno in the sand, it is so smooth and pleasant warm. I love to make little footsteps in the sand. We climb the dunes, stand there and watch the black spangled sky. I think I will never get enough of it.
The dinner we get is very generous. As appetizer we get served a Moroccan salad and after that we have a huge Tajine which could easily stretch four persons. As dessert, we get watermelons. I am totally replete and could fall asleep in no time. Though, we keep company for some minutes with our group, listening to them playing Bongo and singing Arabic songs.
Then, we cannot save ourselfes from sleeping anymore. We take the mattresses out of the our cottage and put themdown behind the dunes. Now, the temperature is very mild so that we only need thin blankets to sleep outside. I ask the guides to switch off the light ofthe toiletts so that we can see the sky full of stars better.
Kuno falls asleep immediately. Although I am tired as well, I do not want to fall asleep.
I feel so free, so happy. This night should never end. With every shooting star, I have a new wish. I hope they will come true. :)
Day 6: Danger, Danger, Baby. Driving to the Ouzoud Falls
Kuno whispers in my ear: "Mimi, Mimi wake up! You'll miss the sunrise!" Sorry, am I dreaming? I cannot wake up now. I am too tired. And where are we anyway? Why is it so bright? I fall asleep for another 15 minutes.
Suddenly, my heart skips a beat and I rush as if stung by an adder to the bathroom, put on my clothes and run up the dunes where my boyfriend watches with the other camper the sunset and takes photos. But I am too late. The sun has almost risen. Nevertheless, it is so beautiful here.
However, we have to get out of the Sahara before it gets really hot. Our guides have already prepared breakfast – olives, bread, marmalade and Berber Whiskey. We enjoy the last meal in the Sahara and then head back towards city.
This time, Kuno and I are even allowed to ride the camels on our own. And I love my camel! I changed mine with Kuno's white camel from the day before, it feels much more comfortable. And not only that it is comfortable, it is also very hungry. At every second acacia it stops to have a small snack. Yumm, yumm, those delicious leaves! The guide cannot stand that my camel's free will and urges it to walk faster. At once, it starts to run so that I nearly fall off my camel. My sunhat flies away and the guide has to run after it to catch it. Ha, that's what he gets when he messes up with my camel and me!
We Probably Took the Most Dangerous Way Across the Atlas Mountains to the Ouzoud Falls.
Arrived at the city, Kuno and I bid farewell to our guide and the camels (I will miss my adorable camel as hell) and drive back to Zagora in order to meet with Omar the last time. We thank him for the great time with him and his family and decide to drive to the Ouzoud Falls today. Those are watefalls in the Atlas Mountains, 381km from Zagora and 2,5 hours from Marrakech. We've heard that one could observe some Berber Monkeys there in free nature.
But this time, the route will be a real adventure. We decide to take a different route than the one we took from Marrakech to Zagora. And if the first route has already been a huge adventure, this one would be even more dangerous and sometimes maybe also life-endangering.
The first hour is harmless in comparison to what comes later. Already before we drive into the Atlas Mountains, it begins to thunder, and there are road signs with exclamation marks. But we do not care about it. We only have in mind that we want to arrive at the Ouzoud Falls before it gets dark. The paths do not have any guardrails, although abysses reach to 2000m deep forward.
After one hour, the first car crosses our way. It is a local with all-terrain vehicle who warns us that we absolutely should not drive this way with our Suzuki Swift. He says it was impossible because the paths are very bad. But my boyfriend does not want to turn around anymore. We have no clue what will envisage us, however I think it is a bad idea to drive further on because actually it would be reasonable to listen to the warnings of natives. But reasonable seems to be a foreign word today.
And there it is..after some time, the road gets always worser and worser. I would not call it constructed street anymore. It is simply a gravel path with too many potholes and rocks lying on the middle of the way. By my side, rocks crumble from the mountains and I am afraid that they will slay us any minute. At the curves, the paths are so narrow that we can hardly pass them. Especially because one cannot see whether another car comes from the counterside. So we drive with 10 km/h for two hours further on. It is really exhausting because I am very tired and want to sleep, but I do not dare to close my eyes.
At long last, we arrive at the first village after three hours. We stop at some Moroccans and ask them whether the way would get better. They look at us as if we were totally crazy, coming from the death direction. We are told that not even locals do not dare to drive there. On this account they wonder how we managed to cross the paths with a Suzuki Swift.
The good news are that the routes to the Ouzoud Falls are getting better. Damn. A weight lifts from my heart. This is exactly what we wanted to hear.
Sleeping Under Waterfalls
The rest of the route is far more relaxed. We come across many villages where children try to stop us to sell their stuff. It is getting dark again, so we decide not to hurry ourselves. Around 11p.m. we finally arrive at the Azizal Province, the place of the Ouzoud Falls. Many younger people are walking arund here and when we drive through the city, a boy at our age stops us to show us a good parking place. He assures us that we do not need to be afraid to pay anything because he just wants to help us. And he is a real friendly guy. Since he is a tourist guide to the waterfalls, he also knows many good and cheap hotels.
We decide to sleep in a hotel directly at the Ouzoud falls instead of sleeping in the car because we only pay 90DH p.P. for one night. And we are more than in need of a shower. Unfortunately, it is quite a long way to the hotel and it is very dark. We only have flashlights when we cross over the
river. But one can already hear the waterfalls.
It is beautiful. And so is our camp. Actually, I want to explain Jalal (the name of the guy) the couchsurfing webpage because he isregistered there as well, but does not has a good overview about how the whole thing works. However, I totally forget it because I am so tired from the long journey, so I take a shower and fall asleep. The next day, he is not there anymore.
Day 7: Berber Monkeys at the Ouzoud Falls
At 6a.m., I am woken up by a noise that is directly above us. It sounds as if a huge spider was lumbering on the tent roof, but I cannot see anything. I wake up Kuno and we leave the hotel to catch some Berber monkeys. We've heard that they are living here around the waterfalls and the best time to see them is the early morning. We go back the whole route from the night before, but do not
discover any single monkey. We are already upset and disappointed because we were so looking forward to see them.
We nearly gave up hope, when I suddenly see a monkey jumping from a café roof with some food in his hands. We follow him, and behold, there is already the second monkey. We walk to the restaurant and discover to our delight that there are even more monkeys walking around, stealing food. I am so happy!
And some steps further up, we discover more than 30 monkeys, relaxing in a large, beautiful tree, removing lice from each other.What a great sight to see monkeys living in free wilderness. We sit
there for two hours watching our friends playing and climbing. Why are there so many similarities to my boyfriend? Hihi, maybe in his past life, he was a Berber monkey as well. For my part, I wish to be a monkey for some days. They look so relaxed while lying on their trunks and cuddling with each other.
Back to Marrakech, Where we Meet the Moroccon's Family Designer
Since we have to bring back the car at 3p.m. in Marrakech, we have to leave, although we could have stayed with the monkeys the whole day. We decide to go back to Riad Laarouss and our hotelier is very glad to see us again. The first thing we do after having booked the room is to catch up on some sleep. The last days were so adventurous that we have never slept more than five hours a night. But now we are glad to lie in a comfortable bed for some hours.
In the evening, we make our nightly routine through the Souks to Djema El-Fna. Somehow, it feels homelike to be in the Medina again. Since Kuno and I have a lot of Dirhams left, we think about a good way to decrepitate it: we will spend our rest money into a huge last feast meal! The restaurant we choose is a dream, it has very cheap and delicious food and there are three cats
sitting under our table waiting for us to give them some food.
We order too much. People from neighbor tables look at us as if we were crazy. For myself, I order a Moroccon salad, fries, an omelette, a Moroccan soup and a chocolate milk. My boyfriend takes a huge Tajine with fries.
After that, we walk totally stodged the last time around. It is already 3.30 a.m., so the turmoil has lessened. At a darker corner, a tailor calls us. He has impressing Moroccon garments and presents  them to us. I really could get used to these clothes. The friendly designer even shows me how making a handmade bracelet and presents it to me as a souvenir. After chatting a while with him, we find out that he is among others a designer of the Moroccon's royal family. We only figure it out because he shows us a catalog with his designed clothes and accessories. The scales fall from my eyes when I realize that the accessoire he presented to me costs actually over 3000 DH.
Kuno buys from him a cheaper white garment from our last money. I hope he will always wear this. It looks good on him.
Day 8: Leaving Marrakech: Last Impressions of our Morocco Tour
So this is it. We had a week full of unforgettable experiences, great and sometimes dangerous adventures,saw breathtakingp laces, met wonderful people. I cannot believe that this should be already over.
I already have itchy feet, although we are still at the airport, waiting for the plane to come. It is bitter to leave the country. Not in a negative manner; how could it be. All the things we witnessed were unique and beautiful. For us, it was a completely new and exciting culture that we learned to love.
I will miss the feeling of freedom when we walked around in the souks, the spangled sky at night that made my heart beat faster, all the straying dogs who were friends like in Lady and the Tramp my little Sahara camel friend which was so hungry, the cats lurking at every corner.
To walk at night through the quaint little streets and get lost in the endless corridors. The crazy traffic, the feisty taxi drivers, even the intrusive sellers. I fell in love with the warmth and temper of the Moroccons. And all the simplicities of life that enriched us with happiness. The children did not play with gameboys, they did not have any smartphones or sat two hours in front of the television. No, you can give them two stones, and they will invent their own game out of the material they have. They play outside the house the whole day and get friends with the next cat because most of don't have another choice – and they didn't even seem to miss it very much.
It may well be that most of people don't have much money, but in their minds and hearts, they are rich. Through the Moroccans I realized more than ever that happiness is something that cannot be bought. It is something that lies within your attitude, it is a personal strength.
Moreover, I learned not to be scared of all any foreign cultue, although the media often transfers a negative image of the Orient. It is only about how you conceive your fellow human beings and you have to be open to take them into your heart. To see the true face of a culture, it is necessary to let go all the prejudices about the Orient. Before I travelled to Morocco, I had so many people being afraid that something bad would happen to me. The Federal Foreign Office gave warnings better not to travel to Marrakech because it was an endangered area. Of course one cannot take these warnings lightly, but if fear governs your mind, there is something in need to be changed.
Our flight is delayed over three hours. Deep in my heart, I wish thatit will not come at all. I do not want to fly back to Germany where all the obligations are already waiting for me. next year, we will come back to Morocco that is for sure. By then, I will keep all these unique memories in my heart. For thelast time, I gaze out of the window to see all the beautiful lightsbelow, the lights of a magical country that I love.