I love to travel to foreign cities. Preferably with as less plans as possible, but just enough plans to become good friends with the city. It is not necessarily about being able to say "I know the city as well as the the inside of my handbag", but at least something like: "We had more than a nightly affair."
If you travel to a new city, you would certainly like to see as much of the city as possible. This includes not only the typical tourist attractions, but rather local bars, restaurants and less commercial places off the beaten tourist paths. For the planning of my city trips, I always do some research on the internet to make myself familiar my travel destination. Arrived at the city, I have some habits to get an overview of the town.
In this post, I present you 8 ideas to discover a foreign city on your own. This way, you can perfectly prepare yourself for your next city trip and see as much as possible. Let's go! :)
At the end of the article, I prepared
a contest for the travel app "GPSmyCity".
This app allows you to discover a foreign city on your own. If you participate, you can
win one of 20 giveaways for a city map of your choice.
In order to participate, just read tip number 8. It's quite simple! :)
"Cities have always been the fireplaces of civilization, whence light and heat radiated out into the dark."
– Theodore Parker, Lessons from the World of Matter and the World of Men
8 Ways To Discover a Foreign Foreign City On Your Own
1. Contact some Couchsurfers if they can show you around or give you some insider tips
Do you know the platform Couchsurfing?
I use Couchsurfing to get to know the lifestyle of the locals better. Couchsurfing is a great way to immerse in a less touristic way in a different culture. On this platform, you can create an account and search for Couschsurfers from certain regions.
Here are some ideas about how you can use Couchsurfing to discover a new city. Contact some couchsurfers and ask them…
about insider tips for your city trip
if they have time to show you around
if they could offer you a sleeping opportunity (a "couch") for one or some more nights. Couchsurfing is for free, but it is always a nice gesture to bring a hospitality gift
If I had not used couchsurfing, I probably would have only discovered half of the beautiful places I have seen so far and would not have gained so much knowledge about some local cultures. It is also a great way to maintain friendships all over the globe! ;)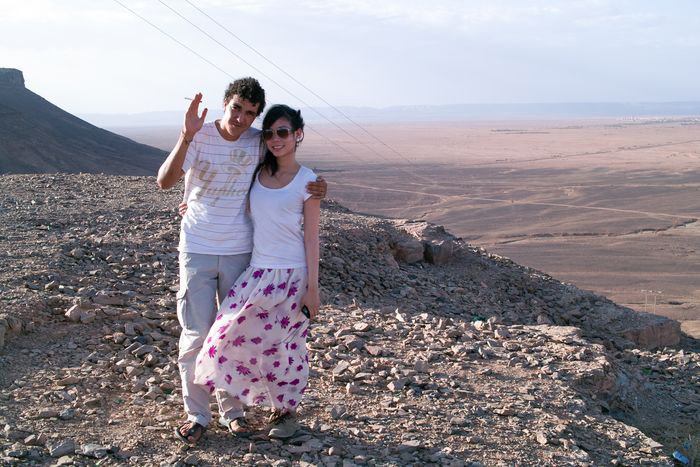 2. Use the internet to find some useful tips

There are numerous possibilities to search for some tips on the internet for your next city trip. I prefer these websites and platforms for the planning of my next trips:
Travel blogs: You can find numerous tips for your next city tip on travel blogs. Most of the tips have already been tested. Moreover, you can often find experience reports for many destination. I prefer to browse through following blogs which belong to experienced travelers: Holiday Guru, Off the Path, Nomadic Matt, The Poor Traveler, Young Adventures, The Planet D or Tuula Vintage.

I always look for some blogs of locals who are reporting about their hometown. You can do that by searching in google for "Blog" and type in the desired city.
Facebook travel groups: Facebook is also a great possibility to get prepared for your next journey. Within these groups, you can exchange yourself with other travellers and ask them for travel tips. The response rate and time is, depending on the group, most times quite high. Sometimes it happens that a member of the group is by chance at the same time in the same place as oneself. Then, you can get together and discover the city together. I can recommend you amongst others the groups Budget Travellers, Travel Addiciton, Backpacking South East Asia Alone, Backpacking Europe, GoWander – Girls Travel or Solo Compass.
TripAdvisor : Tripadvisor still belongs to my primary sources when planning a foreign city trip on my own. The best thing about it is that you can check ratings and feedbacks for restaurants, hotels, bars or sights. The fact that everyone can write reviews is a great bonus point as it makes it easier to weigh which places are worth a visit and which are better not.
3. Get into a bus or a tram and just set off
What is the best possibility to get an overview of a foreign city? It is simple: Get into the first available tram or just take the next best bus. Somehow, you will always find your way back to your accommodation again. I love it just to get into a tram somewhere and arrive at nowhere again. You will see great corners and get a rough orientation of the city.
How did Pau Coelho once put it?
"Sometimes the wrong train take us the right place."
4. Visit an observation deck
How big is the city you are visiting and where are important points of references? After your arrival, look for an observation deck. There you can enjoy the beautiful view and orientate yourself a little.
5. Talk to locals and let them guide you
One can only get to know and understand a culture if one talks to the locals. Traveling to a city without having talked to any locals, is like visiting a restaurant without ordering any food. Locals know their city by heart and can give you valuable insider tips that you will not find on the internet or in guidebooks.
I often socialized with locals who treated me for a meal at their home with their families afterwards. Thereby, one immerses even deeper into a foreign culture and experiences more about the life habits there. If you would like to buy things to non-touristic prices, it is also practical to ask a local to accompany you. In Morocco, sometimes locals accompanied me into stores to help me haggling in their mother language. At the end, I often paid half as much as the usual tourist prices.
6. Walk around the city aimlessly and get lost
True to the motto: "Let's find a beautiful place and get lost", I love to walk around in a city aimlessly and to get lost sometimes. At times only for a short moment, sometimes also for a longer period. But that does not matter because in the end, there is always a way back home.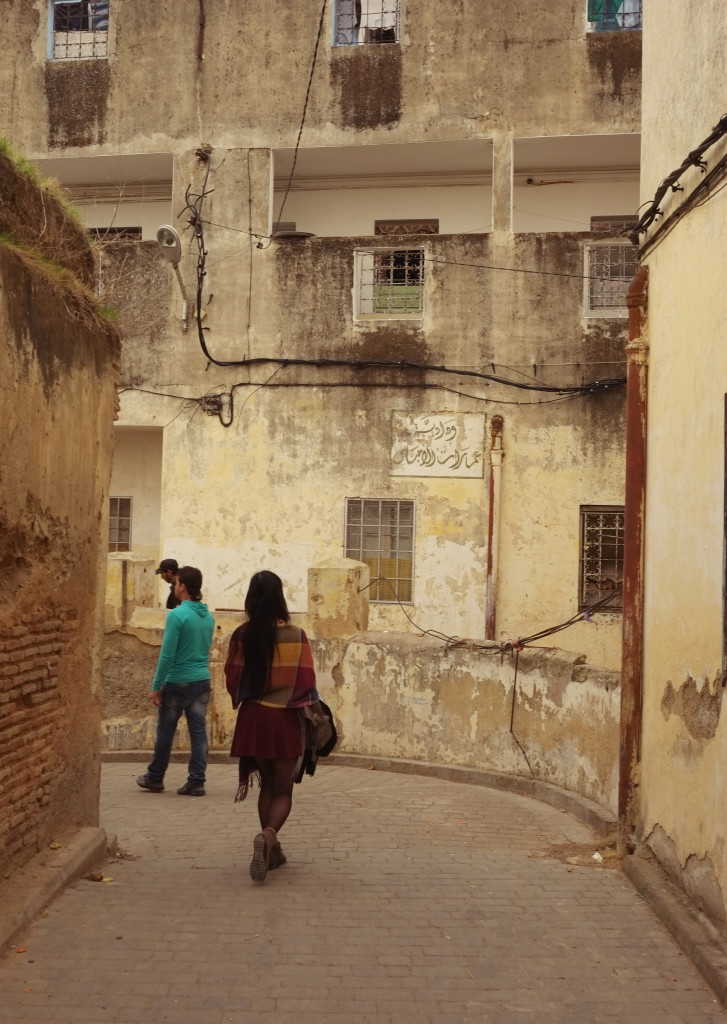 Google Maps or city maps are great to orientate ourselves. But sometimes, they distract us to perceive the city with all our senses. Do you know how much you are missing if you always look down on your map? Without the usage of maps, I rather orientate myself by street names, apperceive small things better and paint my own conceptual city map. If you cannot find your way back at all, you can still use at the end of the day a map. ;)
7. Join a Free Walking Tour
Have you ever heard of "Free Walking Tours?" Such free guided city tours can often be found in many big cities and are mostly organized by locals. They take place in small groups. During the tours, one often discovers interesting corners of a city which are less touristic because the tours are many times organized by private persons – though there are also bigger organizations such as "Sandemanns New Europe".
However, it is not uncommon to give the guides after the tour a voluntary tip in order to support the locals. In Frankfurt am Main, for example, the tours are mostly organized by students.
8. [Giveaway Contest]: Create your personal walking tour with the travel app GPSmyCity

Would you like to plan your personal city trip and discover as many (insider) locations of a foreign city as possible?
Then, I can recommend you the travel app "GpsmyCity" with whom I have a cooperation. Before I approved the cooperation, I tried the app myself for my hometown Frankfurt am Main. I was quite surprised that the app indeed offers quite many insider tipps and is well-structured. For Frankfurt a.M., for example, the app has saved 115 attractions which I partly have not known myself.
What does GPSmyCity offer?
the app offers more than 470 city maps that you can download
tips for world famous attractions, bars, hidden gems, night spots, walking tours through the city, shopping places, parks
markings of the public transports, accommodations, banks, doctors or pharmacies in the area
you can save a spot and so that you can get back to that point later on very easily
you can plan your personal tour by choosing points from the cards that you are interested in. After that, GPSmyCity figures out a personal walking tour for you and guides you to your point of interests
you don't need mobile data for the card once you have downloaded it
How can you participate in the contest and win a free promo code for GPSmyCity?
Usually, the app GPSmyCity costs $4.99 at the App Store of Googly Play. If you participate in the contest, you can win promo code which allows you to download a city map of your choice for free. With this map, you are perfectly prepared for your next trip! The app works for IOS and Android.
Just answer following contest question until the 14th of August 2016:

Which city would you like to visit next? Leave me a comment and let me know for which city you would like to have a free GPSmyCity Map and whether you use ioS or Android! Here you can find a selection of the cities: Choose one of these cities!
The first 20 people who write a comment, will win a promo code for a city of their choice!
Good luck! :)
Photographer of the cover picture: Talkasia/Charosé Fotoesign