A rental car. Two bags, fully packed with travel nerves, a handful of adventurous pleasure and the best friend in the world. On the back seat, the untamed spontaneity calls: "Come on! Put your foot down! When will we finally arrive Porto, Coimbra and Lissabon? I already smell the deep-fried fish and port wine from far away!"
Some adventures sound simply too compelling to pass them up. This one definitely belonged to one of them. Spontaneity, you won again. Congratulations, it's 1:0.
Seven days in Portugal were lying ahead of us. We spent two days in charming Porto, had a two-day stopover in the university town Coimbra and drove afterwards to the metropolis Lisbon. From there, we made a day trip to the nature park Sintra and then went to Cascais, a scenic town at the sea.
Seven days in Portugal that felt like one time around the world.
Things that You Should Definitely Not Miss in Portugal
Which activities should you not miss when doing a road trip through Portugal? Which culinary delicacies should you try out?
In order to give you some inspiration for your road trip across Portugal, I created a culinary as well as an activity list. Our to-do-list was actually longer, but I will come back on the details in my next articles.
Strictly speaking, we have not preplanned very much because we find it beautiful to let ourselves drift along when we are traveling. Nevertheless, here are the things that we tried out ourselves and that we can recommend to you.
Our Top 8 Must Do's When Doing a Road Trip Through Portugal
1. Visit a Fado Bar.
"Pssssst," one can hear it hissing across the whole room as soon as the Fado artists are entering the stage. Loud laughter and colorful tumult are all of the sudden replaced by a respectful ambience which may appear to tourists at first as a little bit oppressive and exaggerated. Whoever makes a sound now, will be punished with contemptuous looks. Other activities such as eating and whispering are taboo. The unconditional attention belongs the artists.
A clearing of the throat. Then the short tuning of the mandolin and the guitar. It starts. And the artists put their whole hearts and melancholy into the songs. The audience is deeply moved. Moved by the heartrending chant which makes one goosebumps going down one's spine. Pure melancholy. Even someone who does not speak Portuguese, recognizes the enormous longing and sentimentality that resonates with the songs. This is not only music, it is an attitude to life.
Whoever wants to taste the authentic taste of the Portuguese culture, should definitely visit a Fado bar. One can find them predominantly in Lisbon and Coimbra. The songs are most of the times as nostalgic as the ambiences of the cities themselves. They are approaching social grievance, longings for better times and unhappy love affairs.
By definition, Fado means "fate". Fado has been registered since 2011 to Unescos immaterial cultural heritage.
2. Discover Portugal off the beaten tourist paths.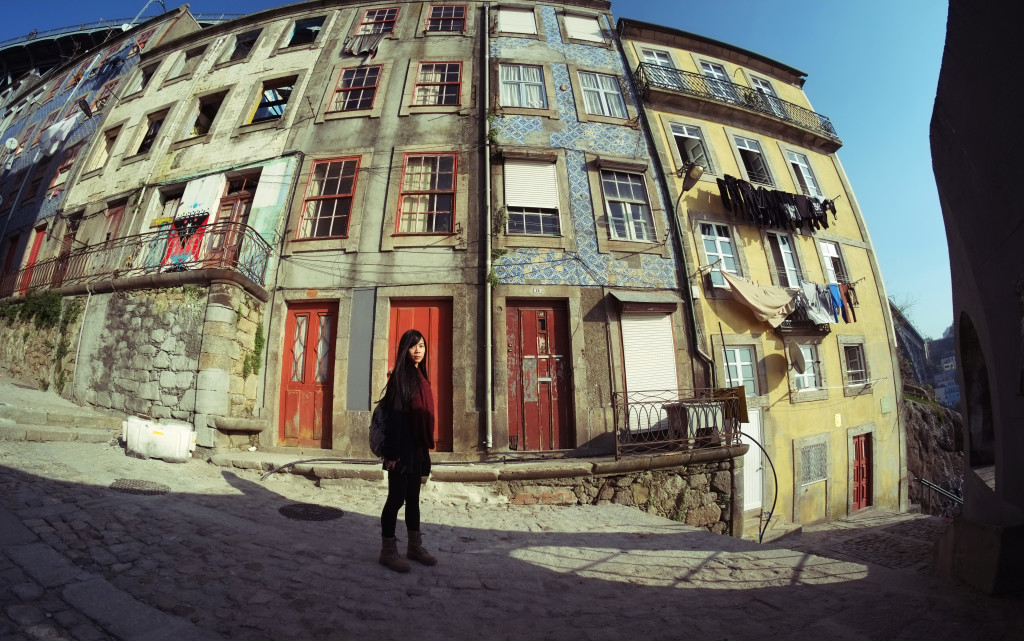 The traveler sees what he sees, the tourist sees what he has come to see.
– Gilbert K. Chesterton
If you would like to take a look behind the scenes of the tourist paths, you should take enough time to walk around aimlessly. Discover narrow alleys where there is no one else, marvel at the dainty buildings where colorful laundry is hanging finely sorted outside the windows.
Portugal's architecture is very diversified and colorful; no corner is like the other. Also visit small local eateries and try out several indigenous dishes which are apart much cheaper than on bigger streets.
You will not only encounter locals on your discovery tour, but also a lot of straying cats. Meow!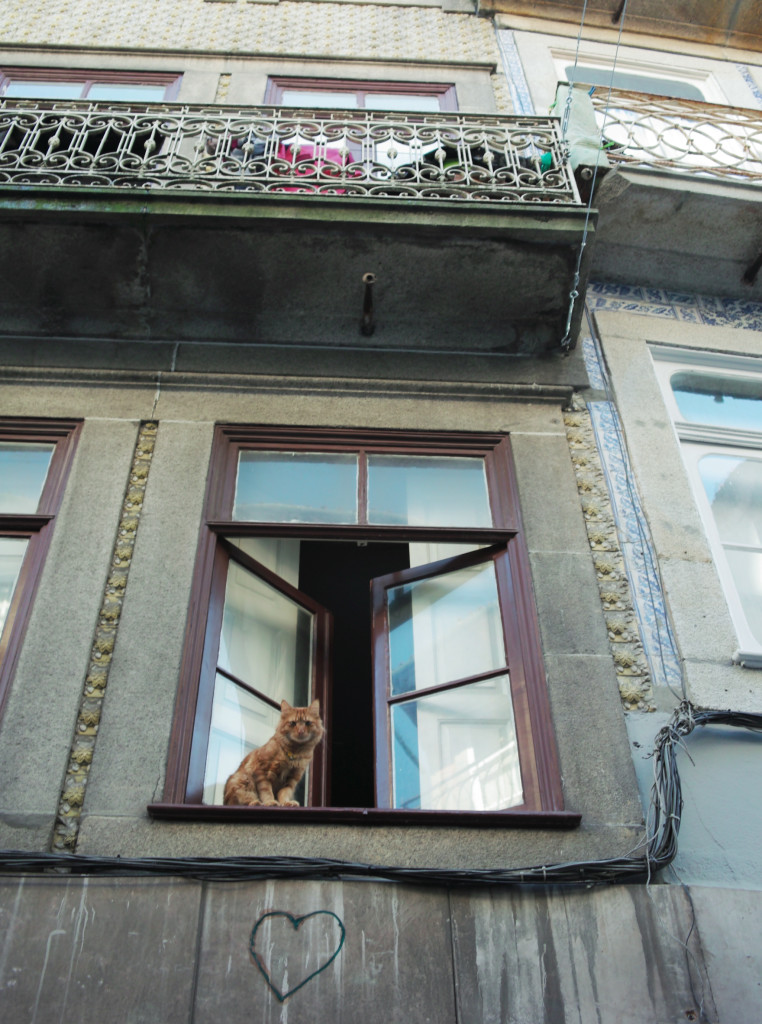 3. Take the Tram 28 in Lisbon.
Are you for the first time in Lisbon and would like to get an overview of the city and its single districts?
Then, you should take the notorious "Tram 28" and experience the old-fashioned charm of the Portuguese cable trains. You will pass by the infamous old town district Alfama, the modern city center Baixa, the popular resident quarter Lapa and many other places as well as sights.
The interior of the Portuguese cable trains is made of wood, so that it creaks sometimes. It gets especially exciting, when the tram drives along narrow and curvy streets. Sometimes, one has the feeling that the tram could roll down the steep slopes any moment ;)
You should definitely get out at the stop "Castelo". From there, you have a beautiful view over Lisbon. In warm weather, you can also take a bath at the public pool. A few alleys away you can find the castle "Sao Jorge" where you, however, have to pay entry. We haven't been inside ourselves, but heard that the view is definitely worth the price.
Tip for your public transport ticket
It's recommendable to buy a rechargeable ticket ("7 Colinas Card" or "Viva Viagem Card") before using public transports in Portugal. They cost onetime 0,50€ and are valid for one year. The advantage is that you can charge them anytime with an amount of your choice. I suggest you to buy the 24-hours-ticket (e.g. 5,00€) for the public transport (a single ticket for busses, trams or metros already cost 1,40€) as you can even use all trams and elvadores (lifts) with this ticket for free.
4. If you are in Coimbra, visit the indigenous restaurant "Ze Manel dos Ossos."
Hidden in the dark alley Gasse Beco Do Forno 12 in Coimbra, lies the small restaurant "Ze Manal dos Ossos." Here you can expect authentic, homemade Portuguese dishes. From goat meat soup to beef bones to innards and deep-fried fish – who would like to try out something new and partly extravagant stuff is here absolutely right.
At least as extravagant as the menu is itself, is the rustic ambience of Ze Manel dos Ossos. On the walls are hanging goat heads, deer antlers and preceived 1000 lovely messages written on napkins and tablecloths by guests from all around the world. The local itself has only five tables – people who have a great hunger should better come half an hour before opening which is usually at 7:30pm. Who runs late is ought to wait in the queue until the chef invites one inside.
Unfortunately, the menus are only in Portuguese. However, the chef will translate the menu for the guests. The cost-benefit ratio is very fair: we ordered a goat meat soup with red wine and soup and paid less than 10€.
Who is looking for a snobby place, however, is definitely out of place. The Ze Manel dos Ossos is simply another kind of knickknacks.
5. Visit the bar district "Bairro Alto" in Lisbon.
The bar- and scene district "Bairro Alto" is located above the business area Baixa. If you would like to go out at night, you will find huge entertainment offers here: from Fado bars to discos, karaoke bars and countless restaurants.
The diversity of this area is very impressive. One moment you find yourself in amidst motley turmoil and some steps further, you find yourself in narrow alleys with beautiful old buildings.
Also the view points in Bairro Alto are worth a visit. From here, Lisbon looks especially romantic at sunset.
Nevertheless, one should be prepared to be often addressed by drug dealers: "You want some coke? You want some coke? It's very cheap, my friend!"
Don't get distracted by that. Just give a clear answer and walk on.
6. Walk through Lisbon's authentic district "Alfama".
A quaint quarter with a lot of winding lanes. Walking around aimlessly leads quickly to aberration. It's like in the game "The Crazy Labyrinth." Between decayed buildings and prestige constructions, flaking house walls and colorful tiled walls, the streets are going up and down. In one corner, there's sitting a street musician, in the other corner a black cat peeps out between the flowery curtains.
If you're a fan of Miradourous (view points), you'll melt away in Alfama.
7. Enjoy your time at the harbors. In Porto, you have a beautiful view from the historic center "Ribeira."
In case you would like to have a vacation feeling in the middle of the city or your feet are hurting from the long walks, you should definitely take a break at the harbors and enjoy the sun.
There you can observe seagulls circling in the air and listen to the cheerful sounds of some musicians at the ports. In Lisbon, you can find a small sandy beach directly at the port, where you can bare your feet in the sand.
You can get the best view on Porto, if you go to the old town district "Ribeira" right next to the St. Louis Bridge I at the river. In some of the nearby port wine bars, you can come to rest and enjoy the artistic view.
8. Drive with the tram in Porto to Foz and enjoy the sea air.
Whoever would like to take time out from the city, can take the Tram 1 at the Porto center (e.g. at the tram station "Sao Bento") and drive to Foz. The Tram drives along the sea and leads you to the beach area of Porto which only lies about 20 minutes from the city center.
Here, you can breath in the fresh sea air and take a walk along the piers. Even in autumn, it's still pleasantly warm. However, swimming in Foz is not recommendable as the water is very dirty. Furthermore, the sea breaks some massive waves against the stony beach, whereby swimming could be thoroughly dangerous.
However, you could go for a stroll through the "Parque da Cidada", the biggest park in Porto and enjoy the greenery. In Foz, there are also many restaurants and bars with a sea view which are, however, priced above the average.
Culinary specialties in Portugal
Typical Portuguese food is amongst other:
Alheira
A smoked sausage which consists most of the times of pork meat and bread. Sometimes, there may be other meats as calf, duck or bunny. The dishes are served with french fries and fried egg.
Bacalhau à Brás
A very popular Portuguese dish which can be found on the menu in almost every Portuguese restaurant on the menu. Typically, it consists of cod fish, baked potato strips, eggs, onions and black olives.
Franceshina
A sandwich with ham, chorizo, beefsteak, several cheese layers and a fried egg as topping. The whole sandwich is laid in a gravy. A hearty and extraordinary taste adventure. That's definitely nothing for sissies. ;) Franceshina is a very special local dish from Porto that they offer in a lot of restaurants. If you're in another region of Portugal, however, you might spend a longer time searching for it.
Pastéis de Bacalhau
Deep-fried potato codfish balls. They are perfect for the small hunger.
Pastéis de Nata
An egg tarte pastry which is ideal with coffee.

If you like to eat fish, you're in Portugal at the right place. You can have a lot of fresh fish for less money. Codfish is in Portugal a popular fish species. However, its taste was in my eyes quite boring.
Typical Portuguese beverages are amongst other:
Ginjinha
A sweet cherry brandy which is either served in shot glasses or in small chocolate cups. Optionally. one can order the drink with or without sour cherries – if you order Ginjinha with cherries, just the cherry stone on the floor. No worries, this belongs to the Portuguese tradition! ;)
Superbock
The probably most well-known beer type in Portugal
Portwine
A red (more seldom also white) sweet wine which is produced from grapes in the northern Portuguese province Douro-Tal. There are different port wine types which differ from each other by mature and growing techniques.
Vinho Verde
Besides port wine my favorite wine in Portugal. Although one expects the wine to be green because of its name, it's not. There is also white, green or red Vinho Verde. We liked the white wine very much.
And a last tip for your footwear:
For your road trip through Portugal, take your most comfortable shoes with you. The streets in Portugal have many cobblestone paths and aren't built out well. Moreover, the footpaths go constantly uphill and downhill, whereby one gets tired feet quite fast.
A second pair of shoes is recommendable as well.
Otherwise, I wish you a good road trip through Portugal!
Have you ever done a road trip through Portugal? Which cities did you visit and which are your personal Must-Do's? I'm looking forward to your inspirations! :)