Little remark: Everything that is depicted here is based on an experience report of a Vietnamese human rights activist who has witnessed the Vietnam war and the fatal consequences firsthand.
"[…] I will not fight against the Vietnamese Communist regime using their methods – retaliation and violence. I do not fight with hatred, or with a feeling of revenge. I do not want to see more bloodshed in my country. Enough has already been shed under the communist regime. I want them to return the sovereignty of my country to its people." – Freedom fighter Vo Dai Ton
As you already know from the first part of my series of articles about Vietnam, the cruelties of the new communist regime in Vietnam has bearly reached international publicity. However, a man whose actions has also gained international attention, is Colonel Vo Dai Ton (also known as poet Hoang Phong Linh), born in 1936 in central Vietnam. He has risked his life in order to fight against the injustice of Vietnam's new regime and is still advocating for the recreation of human rights. He received multiple awards for his courage and is regarded as a hero and a bearer of hope for the Vietnamese people because he has never given up fighting for freedom. Nevertheless, for the Vietnamese communist regime, he is considered as a threat to their power position and traitor to the Fatherland.
Before the end of the Vietnam War in 1975, Vo Dai Ton was assigned as a commando instructor within the South Vietnamese Army Special Forces. During this time, he trained Nung tribesmen units absolving parachute jumps over North Vietnam for intelligence missions and for the purpose to intrude the Ho Chi Minh Trail, which linked North and South Vietnam. He also became head of the South Vietnamese spy-war section, seeing his mission in muckraking the true nature of the North Vietnamese communist regime to the public. That means above all that he aimed at educating the public about the propaganda methods of the North Vietnamese Regime, showing them that their politics are based on numerous lies and oppression. Moreover, he intended to enlighten his compatriots about the communist ideology in general and its fatal consequences in the implementation.
After the end of the Vietnam War, Vo Dai Ton's residence has been confiscated by North Vietnamese soldiers. Actually, he was obliged to join a so called "political re-education" camp which had probably meant his death. Therefore, he saw no other option than to flee secretly from his homeland with his wife.
After the North Vietnamese Communists had taken over Saigon at 30 April 1975 and ended the war, North Vietnamese soldiers started to confiscate and occupy all government houses, palaces, wealthy's people houses and ex-officer's residences in the city. Vo Dai Ton's house has also been taken over, why he and his family were forced to sleep on a kitchen floor overnight. As you might already know from the first part of my Vietnam series, all former southern army personnel and southern ex-army officers, like my father, were obliged to join a so called "political re-education class" in order to understand the political, economical and social values of the new regime. According to the communist regime, this class should only last ten days. After that, all the ex-officers and military personnel would be prepared to live a new life in freedom and democracy.
However, through Vo Dai Ton's past experiences and political knowledge, he knew that all the promises of the Vietnamese communist regime were based on propaganda and lies. My father for example, had to stay over three years in different isolated jungle regions, after joining the so-called "re-education" class. Many ex-officers even got executed, disappeared, starved or were sent to remote prisons waiting for their death. That is why on the 1st May in 1975, one day after Vo Dai Ton's resident was confiscated, the human right activist escaped the communist surveillance under the pretext of buying some cigarettes and food on the market for his wife. His plan was to leave Vietnam with his wife in order to start a new life in freedom.
Disguised as a fisherman, he managed to escape on a small fishing boat with 52 other refugees across the stormy ocean to Malaysia.
Both managed secretly taking a bus to Vung Tau in the South of Saigon, where there were a lot of clandestine boats for refugees. They had to leave back all their stuff, except of the clothes they wore and some pocket money to buy food while looking around to find any way to escape by boat. Arrived, Vo Dai Ton disguised himself as a fisherman in order not to be recognized by anyone. Luckily, they met some friends who offered them to board on a small fishing boat with 52 other people on board. The oldest person on the refugee boat was 82 years old, the youngest only three months. After six days and five nights in stormy seas, they landed at the Malaysian North Coast, where they stayed in a Malaysian refugee's camp for one year. Finally, in 1976, they were accepted by the Australian Government as political refugees.
Actually, he could have started a new life in freedom. The Vietnamese regime would have not been able to do anything against it. But when he was in Australia, he was not able to forget the miseries in Vietnam and founded an organization to fight furtheron against the communist regime in Vietnam.
By 1981, Vo Dai Ton could not bear the deteriorating situation in his motherland anymore, and therefore made the hard, but confident decision to return to Vietnam crossing Thailand and the jungle trails of Laos. He knew that his friends would take care of his lovely family. He was also aware of the fact that maybe he would never come back to Australia anymore in case the Vietnamese government would find and arrest him. Nevertheless, he could not stay idle, while the communism regime slowly destroyed the country where he was spent his whole life. He could not reconcile it with his conscience to abandon all his comrades, who still lived and fought in Vietnam while he led a unconcerened life in Sydney.
The Communist Regime in Vietnam has taken away his family from him, when he was still a kid.
The Vietnamese communists, back then, had taken away his luck. They had taken away everything he loved when he was only ten years old; his mother and two of his uncles, died by the hands of communists. His family has been one of the wealthier families in former times, so the regime had an eye on them. One day, his mother, accompanied by Vo Dai Ton's uncles tried to escape from the town to another place, hoping to be able to lead a normal life without being persecuted. The other family members should join them afterwards, if everything worked out well. Tragically, his mother and his uncles were caught out by the communists, were slayed and buried alive. Vo Dai Ton found it out later, when he was older.
He often still reminds of his mother, how she took affectionately care of him, walking with him hand in hand. But these times were gone and Vo Dai Ton felt responsible to conclude the actions he had already started, hoping to gain back the sovereignty and freedom for his country as well as freedom for himself and his lost family members.
Vo Dai Ton Feels Like Having Lost His Homeland After the Vietnam War.
Since the end of the war, the culture seemed to have lost its beauty. Citizens have been poorer than ever and everywhere has been this gloomy, unbearable atmosphere of suppression and permanent policing.
Vo Dai Ton describes the depressing situation of his homeland as follows:
[…] Tonight it turned cold, the spinal injury from the last battle suddenly renewed its bite and hurt my back – I walked half unconsciously, like an old horse performing my daily routine in front of the cart, like a bus driver who has learned his repetitive journey by heart and every day, every month, every year, filled with boredom, still quietly goes on with his task, trying to put up with his uneventful life.

I stepped into a bookstore at the streetside and found in a remote corner, where spider web and dust covered the wall, a flag, my national colour, not as large as an open hand. It suddenly moved my heart; tears came in my eyes. At my inquire for the price of the tiny flag, the shopkeeper, an Indian, looked surprised, and with his fingers he indicated two dollars.

"Don't you know this country has been lost" he asked. Quietly I folded the flag, put it in my upper pocket, just opposite where my heart was crying…Three bright stripes on the yellow background…Who said my country had been lost? My friends had been cut down when they were sill young, half of my life had been spent in danger and hardship in an effort to keep the red stripes burning and the yellow-background brighter. But now it cost only two dollars. What a cheap symbol for my country.

I hastily got out of the shop, struck by the sight of a multitude of foreigners who had awakened me to the painful reality that my country was really lost…The old injury was hurting again, and I continued my aimless journey with the flag carefully stored in my pocket, looking at myself as nothing more than an old horse in front of a loaded cart. The sunset faded against the background of the city buildings.
On His Way Back To Vietnam He Was Captured And Tortured.
When Vo Dai Ton was on his way back to Vietnam, he and his fellow men were ambushed and arrested without any court decision by Laotion government troops at the Vietnamese-Laotian border. First, they were taken to a small town of Pak Se and were captured bounded in a small schoolroom with 68 other prisoners. Every night rats came and bit the captive's feet bloody. For three days, they lay motionless on the floor. On the third and fourth night, Vo Dai Ton was hung up with a rope from a ceiling and was racked for hours.
After the sixth day of torture, he was sent away to a Soviet-prison in Hanoi, but the conditions got even worse. The next decade would change his life.
He remembers:
They beat me with their hands, with their feet, their shoes and anything they had. They kicked me like a dog. There was blood all over the floor of the cell. I fell unconscious.
For six months and ten hours a day, there were interrogations. They wanted to know with whom he had been working with, but of course he did not tell them the truth. He wanted to protect his comrades from the same misery that he was going through and therefore invented some stories. Every day, he only got two small balls of rice or soup and some salty water. They let him starve, beat him over and over again.
On An International Press Conference He Was Forced To Plead Guilty. But He Did Not. Therefore, He Was Sent To Prison for 10 Years Where He Was Beaten Every Day.
After one year of prison, on July 13th, 1982 he had to attend an international press conference in Hanoi. Surrounded by 10 western reporters and foreign embassies, the communist authorities pressurized him to admit that he was an important anti-communist spy for the CIA and had contacts to the non-Communist Association of Southeast Asian Nations (ASEAN), Red China authorities and Thailand's generals. Vo Dai Ton first feigned accepting the frivolous claim against him in order to expose the bitter reality of the communist Vietnam on-camera. He saw the press conference as a chance to inform the world about the unbearing situation in Vietnam – as a step towards sovereignty and freedom.
When he was brought into focus and had to answer to the interrogation, he held a short speech in which he affirmed that he would never betray the people who have helped him and that he will not stop fighting for the freedom and liberty of Vietnam, being ready to take on the consequences.
However, he was not able to finish his speech. He was directly pulled away from the cameras and the live broadcast suddenly stopped. The journalists and cameramen were taken away their film tapes and Vo Dai Ton should be sent back to Hanoi prison in solitary confinement forever. He expected to die. However, one journalist managed to hide his tape and to smuggle it outside, which was later on among others decisive for the release of the human rights activist.
After the Press Conference He Was Sent Back to Prison for Over 10 Years.
Actually, Vo Dai Ton's plan was to commit suicide on-camera after his statement with a sharpened chopstick from prison he hid in one of his shoes. But his plan did not work out because his suicide-weapon was found by the authorities. So he was forced to live further on in his tiny cell, not knowing if he ever came out alive, whether he could ever see his family and friends again. They were not informed about his miserable situation.
For 10 years and 17 days, he was forced to live in a tiny cell of 2.5x3m in solitary confinement, where he got tortured exactly 96 times, already thinking that he would die. He was hung up on a ceiling, bounded feet, bounded arms, and was beaten for hours.He was not allowed to speak a word to anyone of them for ten years – not even the jailers talked to him to make him lose his mind.
The cell he lived in had no windows, he never saw daylight during is imprisonment. He merely knew that there had to be other prisoners besides him in jail because he heard them screaming when they got tortured.
The Colonel emphasized:
The most brutal thing you can do to another person is to isolate them. The monotony of not getting out of your cell, of speaking to no one. They tried to kill me with isolation, with mental torture.
Neither did he read one single sentence of a book in all these years nor was he allowed to listen to music. Still, he did not allow the communists to take control over his mind, which was all they wanted.
He Set Himself a Daily Routine as a Prevention for Losing His Mind.
When I asked Mr. Ton, what he did during his ten years of isolation, he answered me that he set up for himself a strict daily routine. To keep himself mentally alive, he was praying every morning, then tried to learn and study foreign languages and subjects that he could still remember, imagining  that he was standing in front of a large audience. In the evening and nights, he wrote poems, diaries and books in his mind. During his captivity, he wrote overall 900 poems and three whole books with his mind, repeating them all over again until he learned them by heart.
It is great to see what a human mind can bring about. That Vo Dai Ton has never given himself up, although he thought that he would be executed sooner or later in prison, expecting that the next day could also be the last one. He started to count the days he has spent in prison and the number of time he was tortured.
They don't have to use guns, or anything like that…just time. That's enough to kill a man.
In summer, he was only allowed to bath one time in a month and in winter he only bathed one time within three months. During his years in captivity, he dropped 25kg, only weighing 45kg after his time in prison.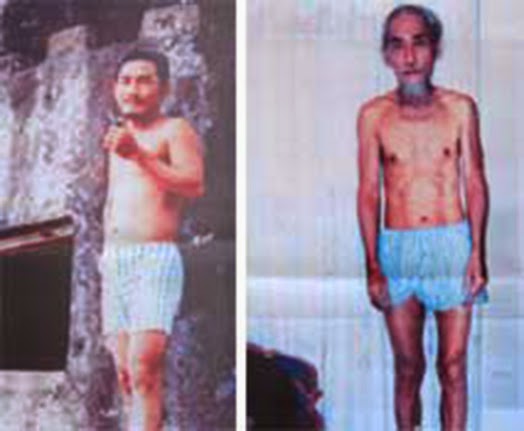 After 10 Years He Was Reliefed Only In Response to Strong International Pressure.
Then, on December 9, 1991 he received the incredulous news: he should be reliefed under pressure of the international world. How could this happen?
A Japanese journalist who joined the press conference in 1982, had managed to smuggle a video of the conference with Vo Dai Don's statements to Japan. He managed this video to be broadcasted on NHK Tokyo Television National Net Work after that. of the trial which gained fame over time. The tape was a perfect proof for the Vietnamese regime's misdeed towards Colonel Vo Dai Ton, causing protests all over the world. Especially the Australian Government was a main force to put pressure on the Vietnamese authorities.
When the Vietnamese regime released Vo Dai Ton, they even had the audacity to claim that he was only set free on account of their good nature and their mercy with him.
After ten years, one month and 17 days, Vo Dai Ton was finally free again and returned back to his family in Sydney – finally being able to get to know his grown up son.
Although the Colonel had experienced hell, has been deprived of everything he loved and almost died during his brutal imprisonment, he has not given up hope for Vietnam. With his nearly 80 years, he is still travelling around the world, holding speeches and encouraging former Vietnamese who had escaped from the country after 1975 not to forget about their roots. He is still fighting for Vietnam's liberation and sovereignty – without violence, without retaliation.
My Interview with Vo Dai Ton About the Political and Social Situation Nowadays in Vietnam
Do you think that the non-Asian countries are widely informed about Vietnam's history and the true nature of the communist regime? Are there many people from outside who know about the prison camps?
Vo Dai Ton:
Most of the world is not familiar with Vietnam's history. The extent of their knowledge is limited to the fact there was a major war many years ago in a country far away and as a result there are now many refugees all over the world. Realistically, we cannot expect people to take a special interest in our history, as we also take minimal effort to understand the histories of other great peoples and their sufferings. The truth is that many of our own Vietnamese are not even aware of their own heritage and history.
The world is beginning to understand more about communism in general since the collapse of the USSR and its Eastern European allies. People living under those regimes are now talking and writing. Unfortunately for us, the world still lacks understanding about Vietnamese communism. This is due to 2 main reasons. The first is we Vietnamese keep our stories to ourselves and are not forthcoming in telling the whole world. We have conferences and write books but all in Vietnamese. They do not serve the purpose of informing the rest of the world.
The second reason is the complex, intricate propaganda machination of the Vietnamese communist party. They have invested so much time, money in producing propaganda materials through many different mediums including print, movies, arts, cultural shows and now the internet. Through these people have a very skewed view of Vietnam's history, the communist regime and their network of prison camps.
Why is it so difficult to change the situation in Vietnam?
Vo Dai Ton:
There are several reasons.
1. The powerful army and police force calm down on any prospect of activities calling for change
2. People have starved and deprived for many years, now with some economical easing, everyone is out to make money for themselves and their families rather than for the greater good of the country
3. The communist party has over million members. Everyone who wants to thrive in their professional career must be a member of the party or somehow connected to it. People in these positions of power will not let go and are not willing to accept changes as it will jeopardize their own future.
4. Globalization and world economy is important to all major countries. They benefit from trades with Vietnam and do not want to risk economical gains when bringing human rights and political advancement onto the table of talks.
5. The Vietnamese community outside. Vietnam has lost its enthusiasm in its fight and struggle for a free Vietnam. The generation that was most eager in the refugee wave is ageing and the younger generation has no real attachment with the Motherland and does not feel the need to continue the fight.
How do you judge the situation in Vietnam, is there still hope that the violation of human rights will find an end in the next 20 years? What are the preconditions for the country's overcoming of isolation and the integration into the world community?
Vo Dai Ton:
History has taught us that every oppressive regime will eventually be overturned by the very people that it oppresses. The Vietnamese people have proved in the past that we do not surrender the tyranny. There are still brave activists in Vietnam who are raising their voice, risking their lives to come head to head with the communist regime. As individuals, their efforts are not enough to make significant changes. However,  their courage will cause a ripple and then tsunami through the Vietnamese people to stand up and claim back their rights.
The people within Vietnam must be driving force for any advances. Many have predicted that with economical changes there will also come political advances. However, this is not the case. The best example is the communist China which is now the second biggest economy in the world, yet its poliitical and human rights record is still dismall.
For integration into the world community, communist Vietnam must make genuine attempts at fostering
1. True open economy
2. Democracy (abolish the one party rule)
3. Human rights
4. Calm down on corruption
5. Increasing role in United Nations
6. Changing the guards of the communist party to allow younger and more progessive representation
7. Encourage and support outside contributions and exchanges on all aspects of life from economy, social education, culture, health.
Today you are nearly 80 years old and are still travelling around the world to hold speeches. Which people are your main audience? Do you have the feeling that people feel encouraged by your speeches to commit themselves in Vietnam?
Vo Dai Ton:
In my human rights' campaign around the world, I have tried to bring out the Truth ab
out the real situation in VN under the communist regime and their severe violations of Human Rights. Speaking with foreign agencies, government officials, politicians, public media, and people in the VN communities, schools, seminars, conferences, etc… I ha
ve talked to a great numbers of young audience, Vietnamese as well as foreign students. A majority of them have been inspired by my speeches with Truth because I was a living Witness, and they have understood furthermore about the real situation in VN now.
As for my older generations' audience, they were themselves victims of the last war, of the present regime, but they have been so busy with their own life and family, trying to survive and integrate into the new societies around, so they understand and can see the true picture through my speeches but not many of them wanted to follow my path. Their own life is shorter and shorter everyday, so they did not want to get themselves involved in the struggle against the present regime in VN. But I always have a strong determination and true hope into the younger generations, outside as well as inside of VN to stand up for the Right and Common Cause for our country of Vietnam.

When visiting Vietnam as a tourist, is it obvious or at least recognizable that Vietnam is led by corrupt regime? How has the landscape of the country changed?
Vo Dai Ton:
As a foreign tourist it can be very difficult to see the extent of corruption in Vietnam. Every aspect of life is based on corruption. It has become an economy in its own right. Everyone at every level is involved. However it only clear when you converse with a local or when you live there. As a tourist you will see the high rises, shopping malls, night clubs and beautiful tourist destinations. You will observe the booming economy which is definitely happening. The traffic jams with motor cycles and expensive cars are a reflection of wealth, but unfortunately not distributed evenly for the people. People in power are desperately hanging on to that by any means. People are freer to speak, to travel and to accumulate wealth. However, criticism of the communist party demands for political changes are not tolerated.