We are too busy hiding our heads behind weighty tomes in order learn chemical formulae and laws by heart that we will forget very soon. Our aim is a successful final degree, just to start afterwards an all the more successful career. Therefore, we are sitting for weeks behind big screens because the next deadline for the twenty-page term paper has to be met at any price. No, today we do not have time to go out with our friends. Since we were little, we have already been instilled that work always comes before pleasure. As if we first had to deserve it to live.
John Lennon once said:
Life is what happens while you are busy making other plans.
And he proved to be right. As soon as our duties get a higher priority than enjoying life, something is likely going wrong. One day we will probably wake up and ask ourselves: "Have we actually lived?"
We will be even older, have more obligations and will devote our life to our family, our children – if we will have some. With age, it will not be easier and the problems will not become any smaller.
We have unlearned to live consciously!
Nevertheless, living consciously is easier said than done. I, too, have realized lately, how easy it is to abandon oneself to the daily grind and to conjure up excuses, why it is not possible to allow oneself some fun. The society has imposed norms on us that tell us how to live. We can see it in our fellow men, day after day. At the extreme, we are talking about those who just turned 17 and have already started to study. Ideally, they are accomplishing their Bachelor study program within three years and are taking right after that their Master's degree. Finally, they are standing with their young 23 years in the middle of the working world. Most of the students will probably complete their Master's degree in average with 27. And their lives, we use as guidelines.
So, what about me?
Social networks like Facebook give us incentives to always compare ourselves with other people. Person XY has already done this and that, completed a semester abroad, has already done its doctorate and now works for a highly respected company. And I'm standing in the midle of my studies, still have to absolve a three-months mandatory internship and jump several times a week from one job to another in order to finance my costs of living. Then, there are 7 term papes that have to be handed in by the end of the semester and the common bureaucracy stuff which takes more time than we want to.
But how is it possible that you still have some time left?
Quite simply: I TAKE my time.
I am studying, I am working and then take the remaining time to enjoy life. I like to be free, to travel and to see my friends and family. Having fun, to get to know new people without always keeping obligations in my mind. Whoever wants to tell me that he could not just take some days off in the semester breaks because he had too much to do for university, has in my view simply unlearned to shape his life autonomously.
Those are lame excuses, because if one really likes to and if life was really so important to oneself, one can always find some time. Even if it means to add one or two semesters to the studies. So what?! Finally, what matters here is that one has tasted this life as far as possible to the fullest. And this is also possible without turning one's back to the carreer.
How can I live more consciously?
This question has been on my mind for a longer time. Sometimes, I was discontent and I still am occasionally because I have the feeling to be caught too much in the daily grind. It is obvious, that it is a physical impossibility to give a universal answer to the question of the more conscious life because everyone has their individual life expectations.
Nevertheless, I can give you some suggestions and tell you about how I am trying to appreciate everyday life a little bit more – and above all how I try to enjoy it.
I TRY TO LIVE EVERY DAY AS IF I WAS TRAVELLING.
Whenever I am on a journey, I like to discover every single detail of my environment. I suddenly become curious for the small, numerous local occurences, as if a child was encountering something new for the first time. One is more interested, likes to get in touch with foreign people and to exchange experiences. One likes to immerse oneself with the whole heart and soul in a foreign culture of a country. To be free and passionate. Are not these some of the reasons, why we love travelling so much?
Photographer: Talkasia
So why should it not be like this in the own hometown as well? Everytime, I come back from my journeys, I realize how familiar and simoultaneously foreign Frankfurt is to me, although I have been living here for a long time.
That is why I decide to:
APPROACH MORE OFTEN TO PEOPLE. TO TALK WITH THEM.
For those who also live in Germany and have already travelled a lot, may have realized that the German culture seems to be a bit reserved in some matters. I perceive that behavior pattern sometimes as "bourgeois" or even rather as "anxious". Often, I cannot get rid of the feeling that some people here are a little asocial because they fear. They are afraid to be exposed. On the other hand, they are afraid of things that are outlandish or unfamiliar to them. Most of us have already made experiences with "the foreign" and have branded that on our minds.
How often are we encountering a person on the street that we find quite interesting, but do not have the courage to approach them? Likely, the answer will be "often" at the majority. That is quite a pity because lately, I had many times positive experiences with new acquaintances. Especially through Couchsurfing I was allowed to meet wonderful people that I can count to my close friends now. Therefore: Go for it! :)
DO NOT BECOME DEPDENENT ON OTHERS.
Who does not know the situation: one has been looking forward for days to an event, when suddenly the friends have to cancel. It is a quite sobering feeling, but moping does not make things better. It is extremley important being able to keep oneself busy.
We should make ourselves less dependent, should be less reliant on others.
For a long time, it was quite difficult for me to go out alone. However, I am always getting better and I am always learning something new. At first it may feel a bit peculiar to go on an event without friends. Still, this is all just a matter of practice – and above all a matter of the personal attitude. Trust a little in yourself and just try to have fun. You will realize that one gets often much easier in contact with foreign people.
Furthermore, you do not have to compromise at all and you can freely make your decisions without taking care for other people. Thus: do not fall into despair the next time if your friends will have no time. Go out alone and make the best of the situation. You will certainly have a wonderful evening! ;)
BE VARIED AND TRY OUT SOMETHING NEW.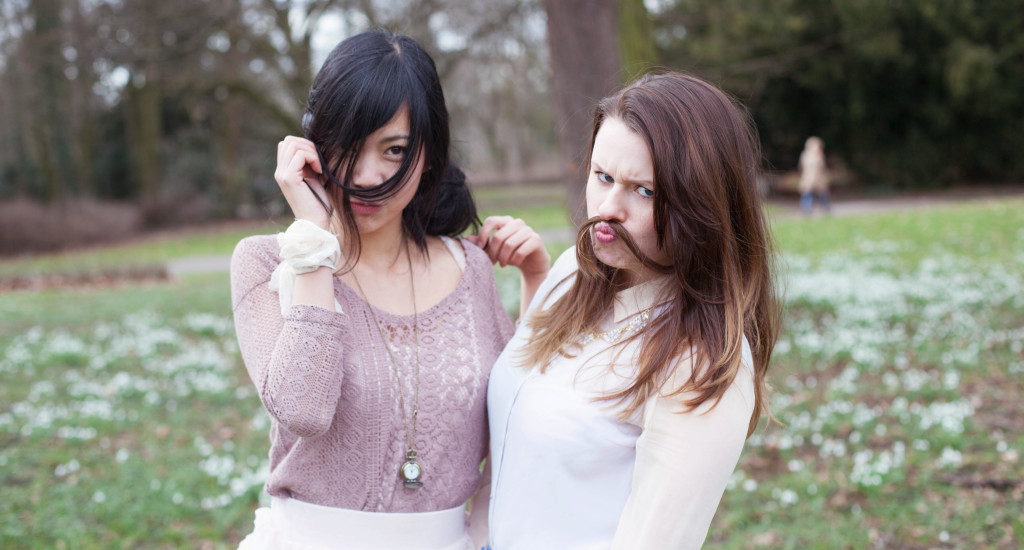 Photographer: Talkasia
How about trying out new bars, restaurants or clubs, even if you have your usual spots? Visit different events. Facebook can be a huge help to discover new places. For instance, I will go more often to cultural events here in Frankfurt. In every town are from time to time theatre plays, art exhibitions or entertaining poetry slam evenings.
If you would like to earn some extra money and also like to have more varied jobs, try to test yourself occupationally in new areas. As a student one has various possibilities. I have worked for years as a hostess or waitress in the event sector for different agencies and could therefore take part on international events, where one always meets interesting personalities. Since I felt like needing a little change, I am next to my studies also a dog- and babysitter, and give some extra lessons in English and German.
PREFER THE REAL WORLD TO THE VIRTUAL WORLD.
It is said that new technologies bring people from all over the world closer together. For acquaintances across borders this might be true. Though, in the circle of friends in the immediate vicinity, they rather separate us and create social barriers between us. We shut ourselves off from each other. We unlearn to cultivate contacts personally. Rather long whatsapp messages instead of making a short call. Then, stalking person X instead of confronting her.
While technical improvements are booming, we are always reverting back in the social area, and hide ourselves day after day behind big screens from reality. Living consciously means to be present physically as well as mentally and to share unforgettable moments together. We should try more often to cultivate our personal contacts without the help of smartphones and the internet. It can be very relieving to escape from the ongoing flood of mass information. This also includes:
BE MORE OFTEN OUTSIDE. DEVELOP AN AWARENESS FOR YOUR ENVIRONMENT. MOVING MEANS BALM FOR THE SOUL.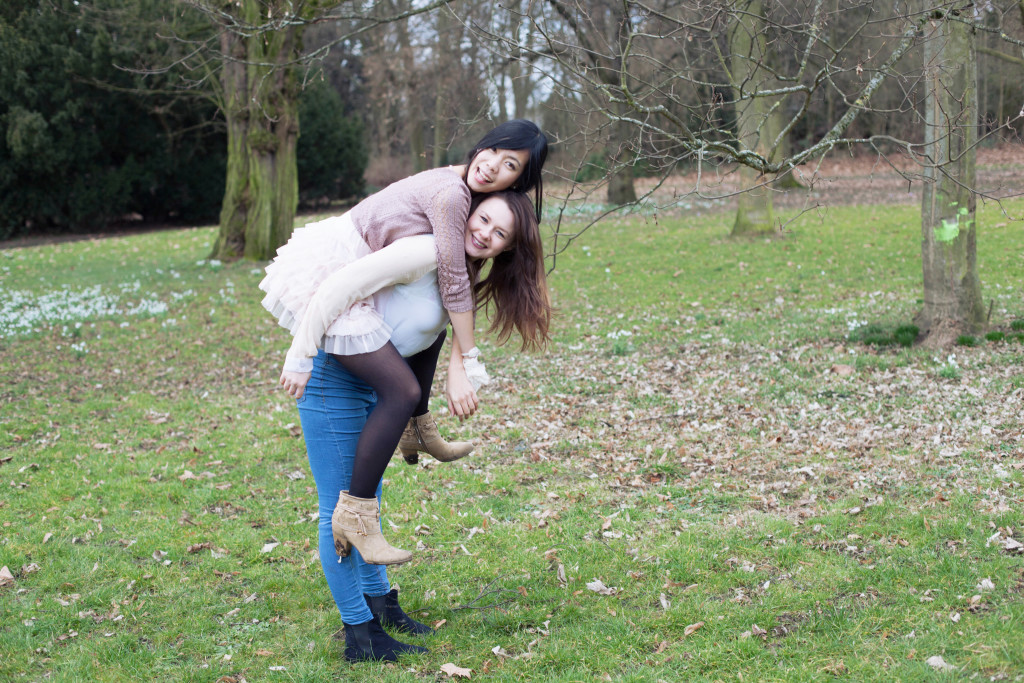 Photographer: Talkasia
It must not be daily sports. Only to spend more time outside and to breathe in fresh air sets us up and keeps us moreover fit. Especially, if one has to spend for some reasons much time in stuffy rooms anyway.
EAT AND SHOP  MORE CONSCIOUSLY
I like it to eat well and to wear nice clothes. It is even nicer to enjoy these small, but ordinary things with a clear conscience. However, daily purchasings can be a big challenge in our opportunistic society if one does not only likes to buy cheap, but also morally.
There is a lack of accessibility for the consumer to experience what really hides behind the misleading and simultaneously untransparent product information. A garment which is labelled with "made in Germany", does not give any guarantee that it was truly produced in Germany – oftentimes, the product is manufactured in low-pay countries, like Bangladesh and is after that only sent for the final processing to Germany – and it can be already declared as a German product. Nonetheless, we could try to  pay attention to certain standards about which we can find information. There is a number of seals that can be found via the internet. An alternative are moreover secondhand shops or online websites (e.g. Ebay) where one can also buy used clothings from low-pay countries without supporting unhuman production methods.
The same also applies to foodstuffs. When buying products which are labelled with palm fat, one does not only support the extinction of our rain forests, including endangered species (e.g. orang-utans), but also human rights violations. Furthermore, one can also counteract factory farming without directly giving up meat, by e.g. going to small organic shops or a butcher, where one can collect detailed information about the origin of the product at first hand. Unfortunately, it is true that morally defensible articles are more expensive and that it is hard to afford them permanently. However, the world would be perhaps a little better, if we would all trash the general disenchantment with information and instead would carry more social responsibility.
ALWAYS PLAN SOMETHING TO LOOK FORWARD TO.
If the everyday stress seems to prevail slowly, it is finally time to plan something to look forward to. How about a small city trip? Escaping 3-4 days from the everyday life and immerse in a different lifeworld. For less money, a wellness day in the thermal bath, a cinema- or theatre visit or a bike trip with subsequent picnic in the green can be very relaxing. With small anticipations, everyday life is much easier to master!
Have you ever dealt with the topic of living more consciously? What suggestions do you have?