Have you ever heard of the small hippie town of Dahab?
Many travelers had never heard of this place until they came one day and left their hearts here. The former fishing village is situated on the southern Sinai Peninsula directly on the Red Sea and distinguishes itself from other Egyptian places. Renowned by Egyptians for its unique charm, it's a secret vacation spot for people who want to escape reality for a while.
I've been living in Dahab for nine months and I fell in love with this place upon first sight.
Admittedly, I had never considered Egypt as an attractive travel destination, although I knew it had a lot to offer. However, Dahab has convinced me of the contrary. What makes Dahab so special?
Read these 28 surprising facts to find out what makes Dahab a must visit!
28 surprising phenomenon that make Dahab so unique
Time passes by slowly yet quickly at the same time
In Dahab, you lose track of time after a few days. Time here is an afterthought. People in Dahab just live in the moment and flow with the relaxing hippie vibe. This is especially refreshing if you're coming from a big city where you often have the feeling you're racing against time.
In Dahab, you can escape the stressful lifestyle and take time for the small yet beautiful things. Sometimes, a day feels like a few hours or vice versa. Time is fiction here, it passes by slowly and quickly at the same time.
The trust in one another is stronger than anywhere else
The family-like, trustworthy community in Dahab is unique. Most of the locals know each other well and make sure that travelers also feel welcome and safe. In no other place have I experienced such a strong bond among each other.
You can leave your stuff in public places without being afraid that someone might steal it
In most places, you can't leave your bag with valuables unattended in a restaurant or bar. In Dahab, you could leave your laptop in public spaces without being afraid that someone might steal it.
How come? In Dahab, you quickly meet many people within the small community and realize that they take good care of each other. In no other town would I leave my valuables unattended, but the people here immediately become family and watch out for each other.
Certainly, a healthy common sense is necessary. I usually inform restaurant owners that they should keep an eye on my stuff when I'm away for a longer time. In my hometown Frankfurt a.M. however, I would not dare to leave my stuff even for five minutes unattended.
It's no problem to pay later in restaurants, stores or bars
You forgot to bring enough money from home and can't pay your food or purchases directly? Here in Dahab, that's no big deal. Usually, you can still pay afterwards if you seem like a reliable person. ;) Although you should not try to make this a habit.
You learn to appreciate the small things in life
"The key to finding a happy balance in modern life is simplicity."
– Sogyal Rinpoche
In Dahab materialism loses its value. It doesn't take much to be happy. While you enrich yourself in many western countries with materialistic things, the breathtaking landscapes and the inspiring atmosphere give you everything you need, and this is not much.
Here you learn to appreciate the small things in life which are the most important foundation to find true happiness. In my article "5 Reasons Why a Minimalist Lifestyle Will Help you in the Process of Self-Discovery", you'll find more inspiration on this topic.
You live in a tiny bubble
"Dahab is a place where dreams and reality collide."
– www.minna-memoir.com
The peaceful atmosphere in Dahab releases you from stress very quickly. With sea views and the golden-brown mountains, it is easy to lose yourself in a real-life dream world. The outside world becomes by time surreal, while dreams become within one's reach.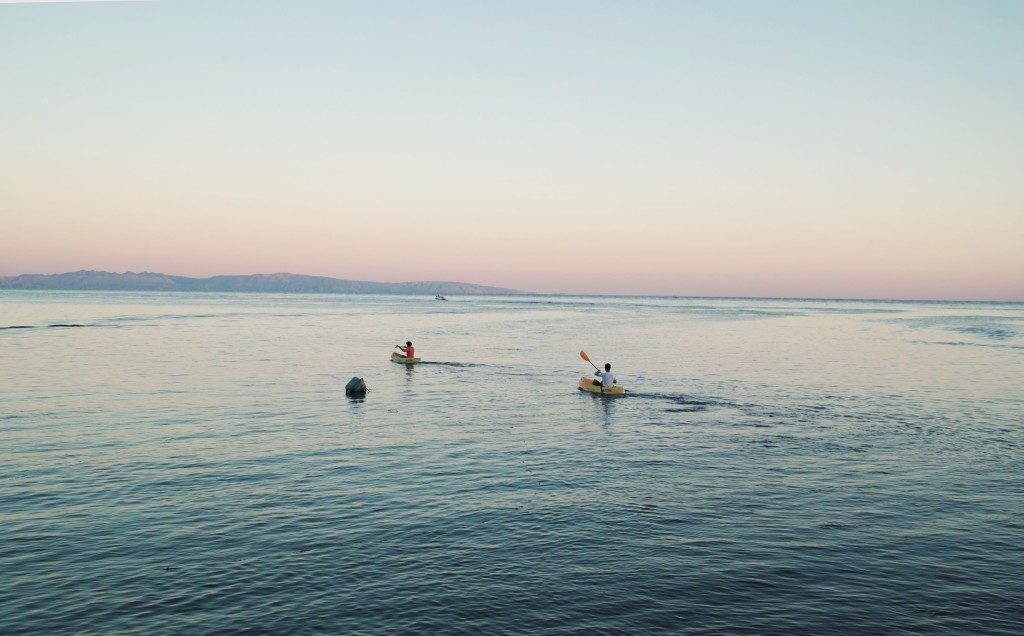 Beautiful campfires light the restaurants in the evening
Would you like to eat out in the evening in a relaxing atmosphere? It is not unusual in Dahab that you'll sit directly next to a campfire inside a restaurant. Therefore, you don't have be afraid to freeze at night. The Nemo Restaurant, Friends or Meyameya, for example, have a fire pit at their place.
Though, you should be careful not to fall over a fire pit… ?
Dahab is one of the safest places to travel
Although the western media world conveys the impression that traveling to Sinai is dangerous, you'll be surprised to find the complete opposite here. South Sinai and especially Dahab is honestly one of the safest places to travel. I can only say that I've never felt in a German city as safe as here, even if I walk across the darkest alleys at night.
Certainly, a healthy human sense is indispensable, but the crime rate in Dahab is very low. There are occasionally party brawls, but most times, it's nothing serious. During the four months I've been here, I've only heard of two incidents – nevertheless nothing that couldn't have also happened in Germany. Now think about this: in Frankfurt a.M., my hometown, 118.766 crimes were committed within one year. [1]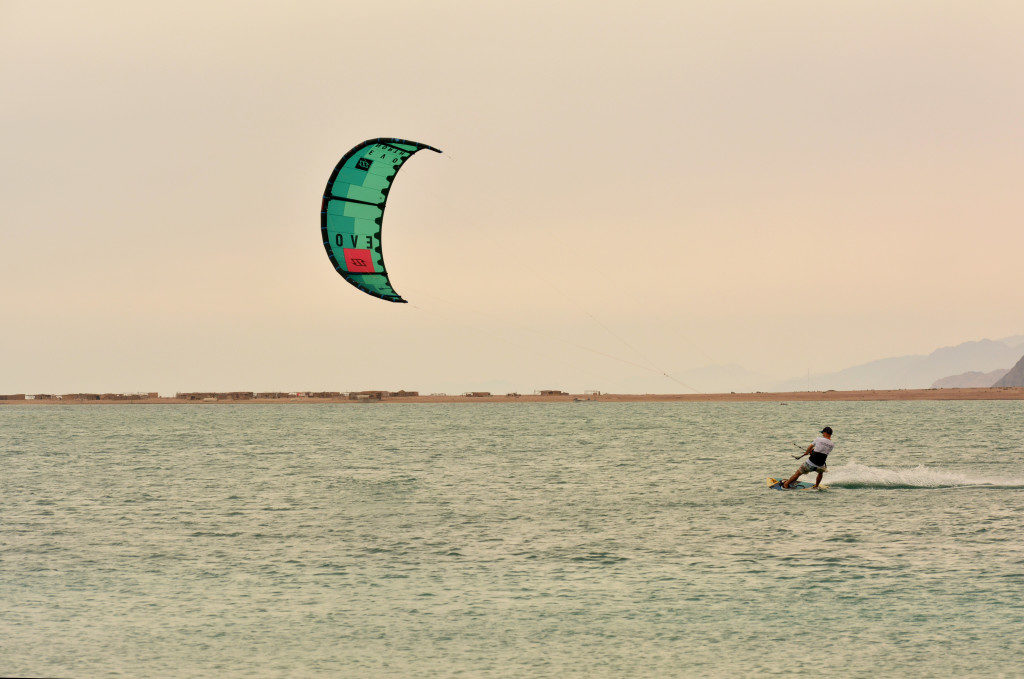 Weekdays are an illusion
"Which day is it today" "I don't know it exactly, when was the last Friday Market?"
Weekdays are an illusion in Dahab. Most of the locals count their days by the weekly events like the Friday Market, the karaoke night in CarmInn or the quiz night at Churchills. Not bad, when Mondays feel like lazy Sundays. ;)
In Dahab, you're seldom alone and get to know people quickly
On the average, you'll come across a same person 2-3 times a day if you're in the Lighthouse area. After two weeks, it's nearly impossible to stay unknown. Most of the people will friendly say hi to you at every corner and invite you for a cup of tea.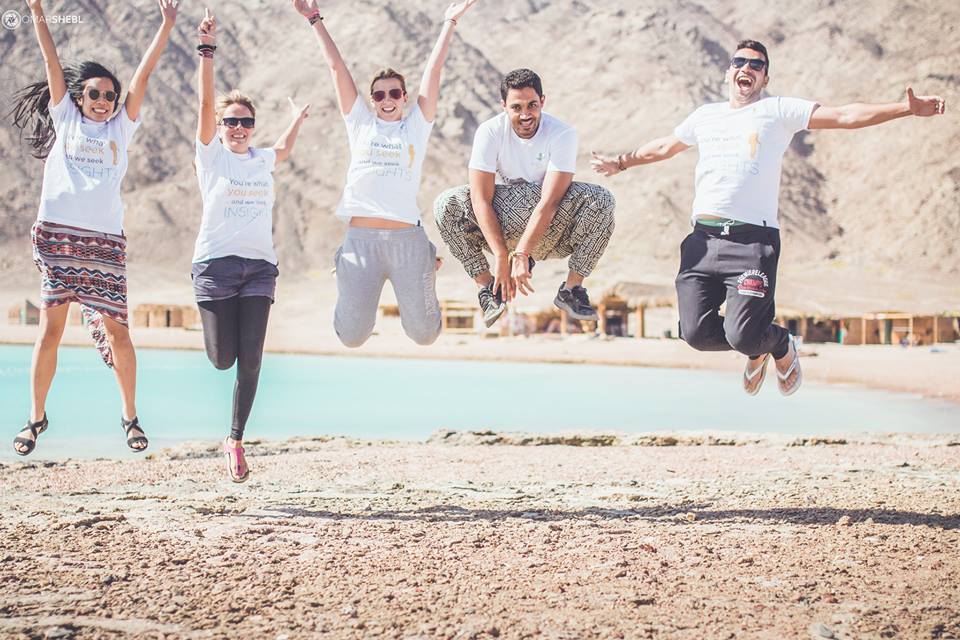 Therefore, appointments are nearly unnecessary because you'll cross ways everyday anyways and meet each other at the same places. But the good thing is: if you need a haven, you can escape the Lighthouse area and find yourself alone within 10-15 minutes in a quieter place.
Dahab is a drug – you get easily addicted
If you visit Dahab once, you'll most likely come back. Many travelers only find this place by chance and fall in love with its irresistible charm. Frequently, you'll meet travelers who have been living for months in Dahab, although they first planned to stay only for a few days. A stay "for a indefinite period" is no rarity.
Those who leave Dahab, will usually come back after a while because Dahab's warm character makes you simply addicted. At the same time, you'll never feel like rehabilitating from it.
The street scenery changes every day
Dahab resembles a giant parkour garden because the locals have been digging up the roads for a few months. Therefore, the scenery, and obstacles change daily. You definitely have to watch out not to fall into one of the many potholes, something that happened to one of my friends on his first day in Dahab.
Nevertheless, the streets which seem to be permanently under construction add to Dahab's charm.
Life in Dahab is simply better in flip-flops or barefoot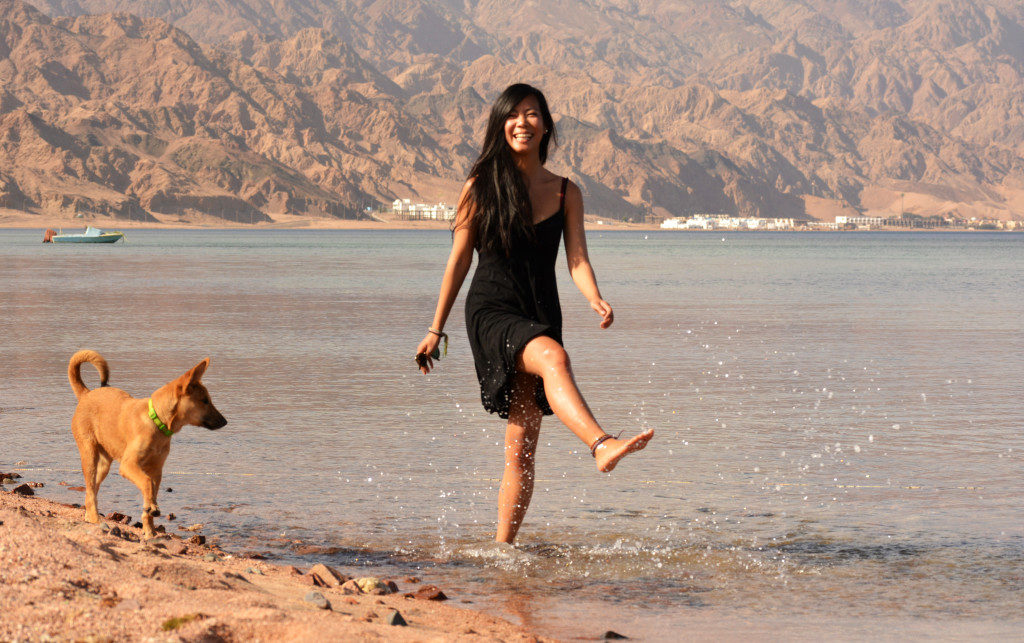 Why wear shoes if you can also walk barefoot at the beach? Dahab's streets are quite clean except for the occasional dog poop on the street ? Dahab is still the perfect place to train our foot muscles! ?
Go under water to find a whole new world
Would you like to learn diving or are already in possession of a diver's license? If yes, you should dive into the underwater world of Dahab!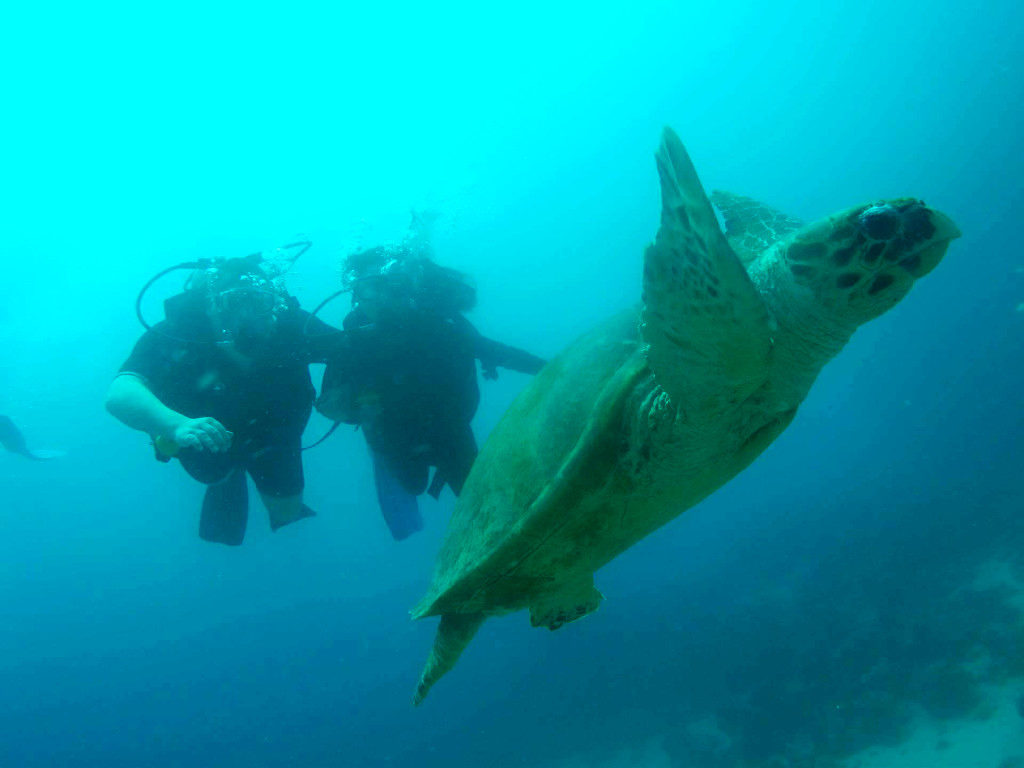 According to Lonely Planet, Dahab belongs to the world's 10 best learn-to-dive destinations. There are many renowned diving sights that you should visit once including the infamous Blue Hole, the Canyon or the Islands. I can only recommend the Octopus World Dive Center to learn diving! ?
You are allowed to bring your own drinks into restaurants
In most restaurants, it's okay to bring your own drinks. Certainly, you should still order something, but you can take your time with this. No one will approach you if you hang out for a little bit and order later.
The more sugar the better
Life in Dahab is literally sugar-sweet. If you order a Bedouin tea, you'll often be asked the question "How many spoons of sugar would you like in your tea?". If you answer with "no sugar", you'll exposed immediately as a foreigner. Usually, locals add 2-5 teaspoons of sugar to their tea which is served in tiny tea glasses.
The life motto here is: The more sugar the better. It's not surprising that the people here are so balanced, their blood sugar is through the roof.
You occasionally teleport to Saudi Arabia
Sometimes, you'll receive a SMS with "Welcome to Saudi Arabia!" So if you're wondering how time has passed so quickly, and it's suddenly 6 p.m. instead of 5 p.m., your mobile phone network has most likely made a short excursion to Saudi Arabia.
The stray animals in Dahab are friendly companions
Dahab is a paradise for animal lovers. Even street or cat dogs lead a quite fulfilling life in comparison to other places. It's not unusual to have a cat sitting next to you in a restaurant or if a dog takes a powernap under the table.
Most dogs are well known among the locals: there is Dingo, one of the most famous dogs in Lighthouse; Lazy, the white-orange-brown spotted dog whose territory is the Yalla Bar. He loves to give the paw in exchange for a good petting and there is Lobo, the beautiful Huskey with different colored eyes. Animals are used to humans here and will try to become friends with you.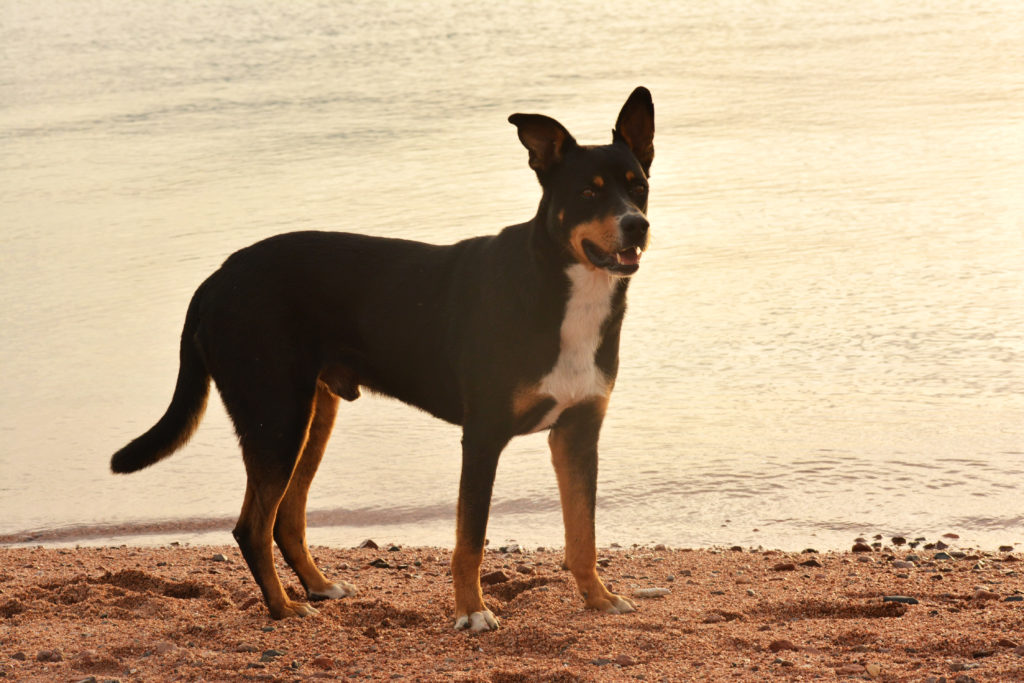 You'll love the feeling of freedom sitting in the bed of taxi trucks
Do you love sticking your head out of the window during car rides or riding in a cabrio? Then you'll enjoy making yourself comfortable in truck beds, howling at the moon, feeling the wind rushing through your hair while passing by beautiful sceneries. As an adventurous traveler, you'll love this incredible feeling of freedom! ?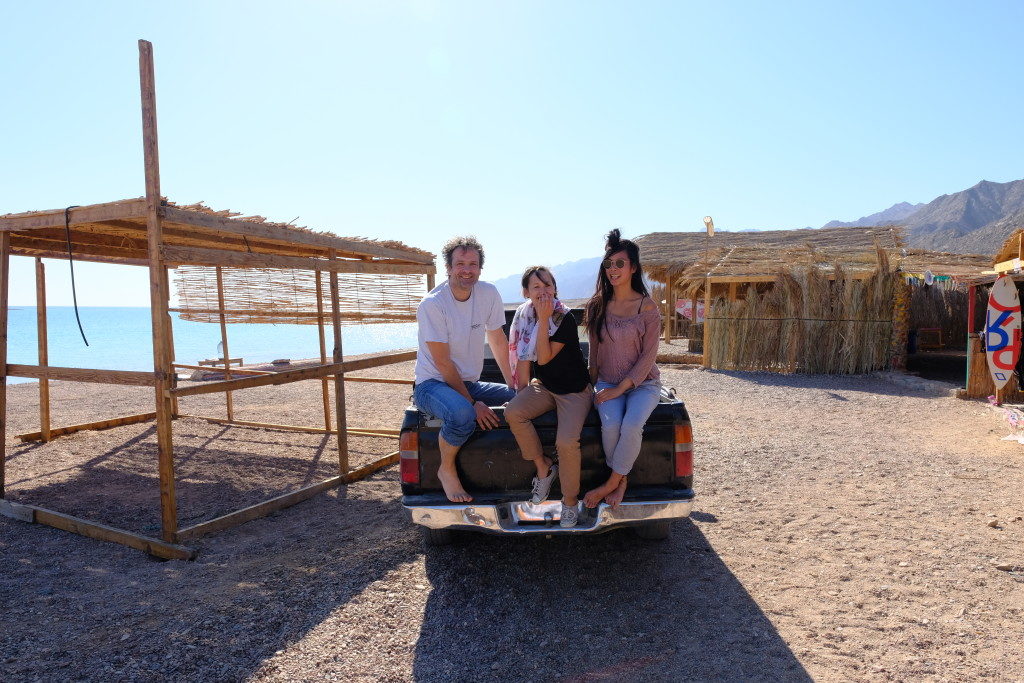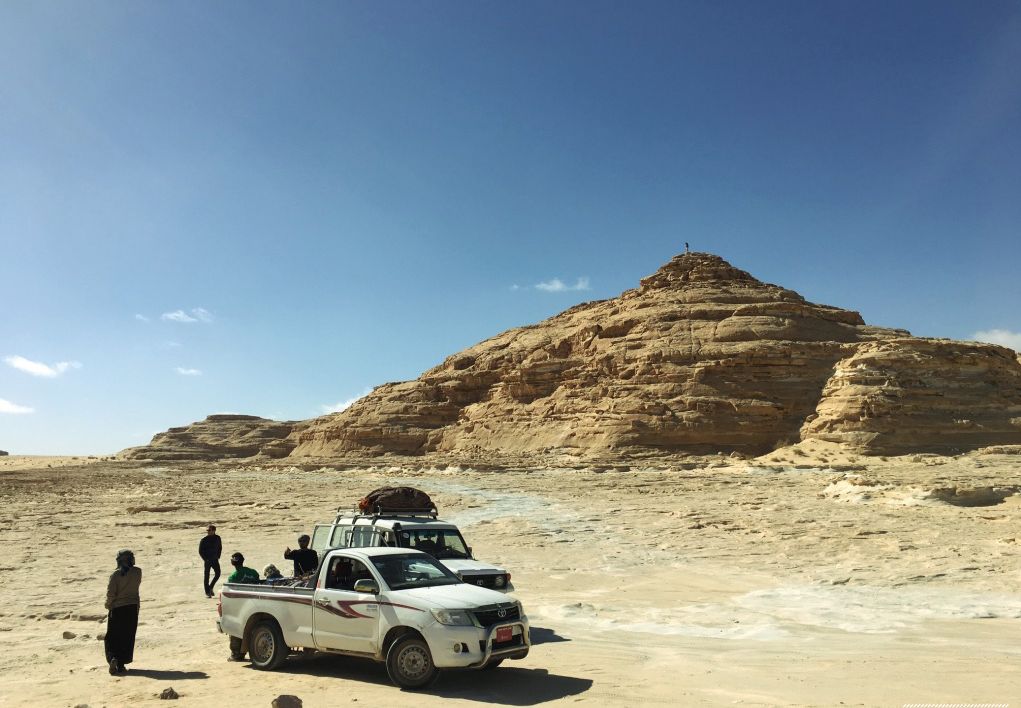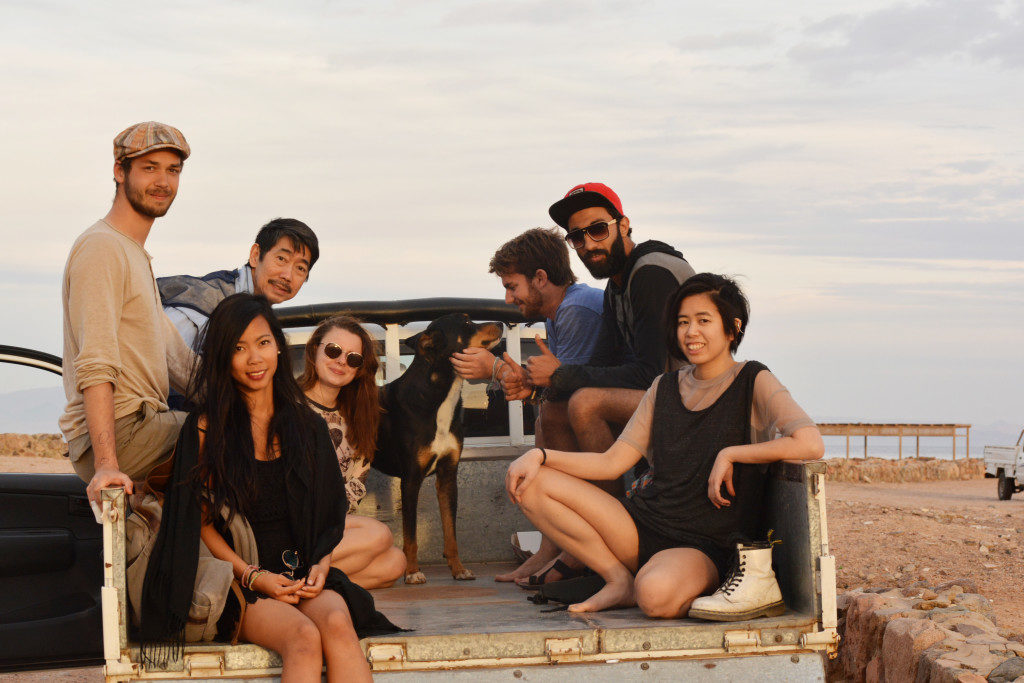 Friendship bracelets are suddenly hip again
Do you remember the braided friendship bracelets from your time in elementary school? While I perceive these friendship bracelets in Germany rather as a childhood trend, they're still all the rage in Dahab. Their sellers, Bedouin children, are true hustlers, they could sell apples to a tree. Moreover, these bracelets are like tattoos: once you have one, you can't get enough.
robably 50% of the people in the Lighthouse area are high or stoned
"I smoke two joints before I smoke two joints and then I smoke two more" seems to be the motto of many people in Dahab. The relaxing atmosphere here leads to a lot of pot smoking, so much so that probably 50% of the population is blitzed.
As weird this might sound, this phenomenon contributes to Dahab's unique charm. For this reason, everything works a little bit more slowly here.
Saudi Arabia is a Fata Morgana
It's lovely to stare into the distance from Dahab. On some days, you can see the mountains of Saudi Arabia across the Red Sea, on other days, it seems as if Saudi Arabia doesn't exist at all. Occasionally, it's so foggy, that Saudi Arabia seems to be a beautiful Fata Morgana.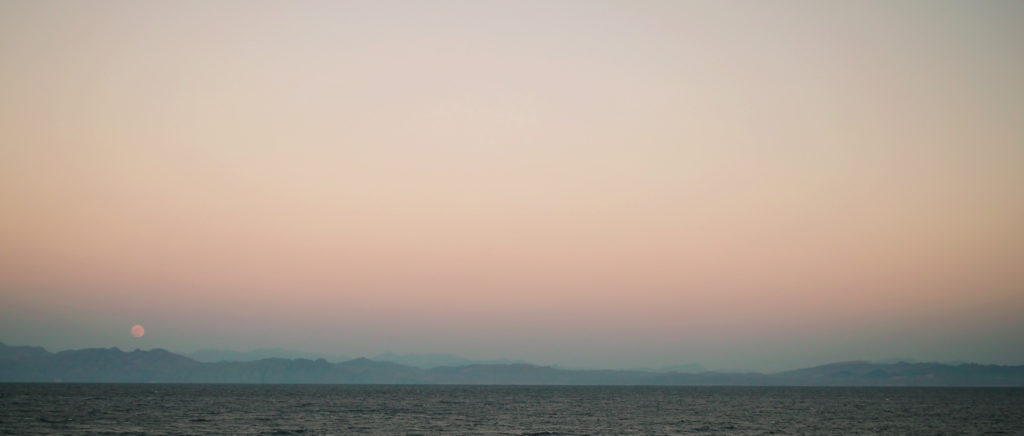 You shouldn't be particular about punctuality because "take it easy" is the motto in Dahab
If you arrange a meeting with a local in Dahab, you should be prepared that the person will arrive at least 20 minutes late. Locals tend to lose all sense of time after a few weeks of staying in Dahab and will perceive punctuality as an unnecessary product of capitalism. This phenomenon is called by western people "Egyptian time". If someone arrives by this schedule, it translates to unpunctualty.
After a few weeks of staying in Dahab, you too will experience this same relaxing mindset. You won't worry about coming 10 minutes late and may get involved in a lot of smalltalk on the way to your date. ;)
Stella and Sakkarra are THE beers – but please no wine!
As a person who grew up in Germany, I'm very snobby about beer. Therefore, I didn't expect much from Egyptian beer, but my first Dahabian beer was a pleasant surprise. There are two popular Egyptian beer brands in Dahab, Stella and Sakkarra. My favorite is Stella, it tastes a little bit lighter than Sakkarra. For people who can't warm towards these local beers, you can also find international brands like Heineken in the Beer Bottle Shops.
By contrast, the average Egyptian wine leaves much to be desired. Most times, it tastes very watery and causes serious headaches the next morning. So if you're a wine connoisseur, you better stay with beer.
Fridays in Dahab are the Sundays of Europe
While Sunday is the usual rest day in most European countries, in Egypt it's Friday. On these days, many shops are closed until lunchtime or at least during the Friday prayer. Likewise, Saturdays and Sundays are normal working days.
Short distances seem like a marathon
After a few days in Dahab, you'll start to feel like a sloth. For one thing that's because you never have to walk far to get from A to B, for another thing, coziness comes easily thanks to the relaxing vibe, a chronic condition.
A half kilometer appears suddenly like a marathon. I live, for example, only about 12 minutes from the Lighthouse center, but often play with the idea to take a taxi back home, although I know it's ridiculous – especially considering the fact that I was happy "only" having to walk 30 minutes back home in Frankfurt.
The winter in Dahab is sunny, but windy
The cold months in Dahab are between December and February, where the temperatures lie typically above 20°. While snowmen with half rotten carrot noses decoarte the winter wonderland in Germany, people in Dahab create sand angels.
Although it's quite sunny on most of the winter days in Dahab, you should still be prepared to bring warm clothes because it's usually very windy. The winter months in Dahab are the perfect time for windsurfers to visit this unique hippie place!
It's a sign of trust to not fasten the seatbelt in taxis
Even if it's commonplace in Germany to fasten your seatbelt during cab rides, it's considered as a vote of confidence to leave it unbuckled. Although, they say "safety first", in Dahab trust comes first.
Certainly, you should reasonably still fasten your seatbelt during car rides, but often taxi drivers will rebuke you for this: "no, no, don't need this, my friend".
50 % of the time, the ATMs in Dahab are empty or "out of order"
It's best to pick up money in the morning because the ATMs are often empty or "out of order" by the afternoon. It's not unusual that you have to travel halfway across Dahab to find a working ATM. ;)
You'll love to swing stress away at the beach
Do you remember your old childhood days in which you sat for hours on a swing and dreamt of the big, wide world? Whenever I have a stressful working day, I love to swing the stress away in the hippie cafés, like the Everyday Café, Taro Café or Downtown Café and relax.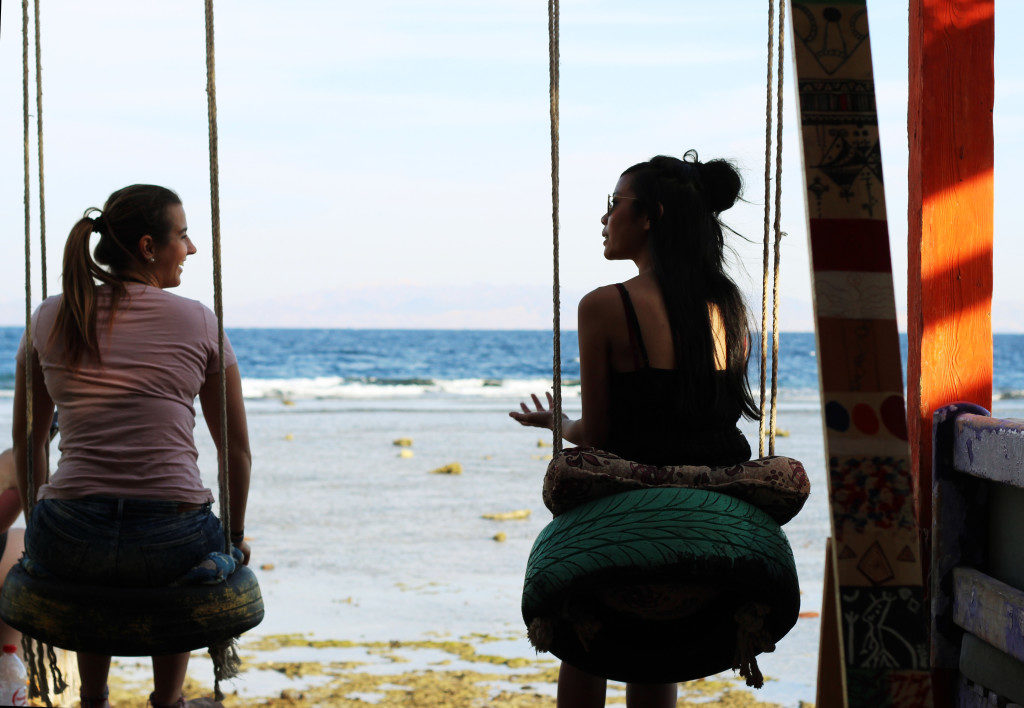 Conclusion: If you're looking for a special travel destination off the beaten path, Dahab should be high on your travel-bucket-list
Last year, I discovered Dahab only by coincidence through an internship for CoworkInn Dahab. From day one, I knew that Dahab was positively different: the Hippie vibe, the breathtaking landscapes and the family community are not comparable to any other place on earth. Dahab belongs to the list of places that you should definitely visit once. If you would like to travel to a rather untouristic, Egyptian place or seek to dive into a local culture, I highly recommend Dahab as your next destination.
Dahab is the perfect travel destination if you…

seek an absolutely relaxed enironment for your vacation
plan to travel alone and would like to meet warm people
can't decide between traveling to a place with mountains, the sea or the desert: Dahab offers all of these
would like to learn diving, kitesurfing or windsurfing
plan to travel on a low-budget
would like to dive into a breathtaking underwater world
would like to experience the simple, Bedouin lifestyle
enjoy Hippie vibes
would like to escape the stressful everyday life or forget about your sorrows
perefer nature vacation over party vacations
don't like very touristic places
In any of these cases, I hope to see you soon in my favorite hippie paradise! :)
Have you ever visited Dahab? If yes, what makes Dahab so special for you? I'm looking forward to your comment!