Have you ever thought about the enormous effect traveling has on our environment? Can you confidently say to yourself that you're a responsible traveler?
Let's be honest: I think only a few travelers concern themselves with sustainability. Don't consider it a reproach, I know how easy it is to become overwhelmed with the euphoria of traveling without thinking about the effects.
If you're like me in your twenties, you might be familiar with the circumstance of living your life at the limit with less money and a touch of irresponsibility. Personally, I've taken many chances low-budget traveling. Cheap flights and less effort, going far away from home I flew a lot and returned after several weeks home again. Sustainable? Not at all.
The effects of flying on our planet: Terrifying Statstics
If we bear in mind that the tourism sector is one of the fastest growing industries and that there is a growing number of people longing for an independent lifestyle going on sometimes reckless travel adventures, we should at least be aware of the long-term effects our travel behavior might have on the future world.
Did you know that one single flight can cause more CO2 emissions than driving a car or bus for an entire year? For example, a flight from Frankfurt a.M. to Bangkok causes roughly 6244 kg CO2, which is nearly three times more than the average climate-friendly yearly budget of 2,300 kg CO2 per person.
Now take this as a comparison: If you drive with a mid-range car for a whole year (ca. 12,000 km), you produce only 2,000 kg CO2. [1]
Considering the fact that by 2050 climate change might lead to the extinction of 30% of species and 50% loss of the Amazon rainforest [2], we all must consider with the concept of sustainable tourism if we want to be responsible travelers.
What Does "Sustainable Tourism" Mean?
Put simply, sustainable tourism means traveling with less negative ecological and sociocultural effects as possible. That means that we, as responsible travelers, should always pose ourselves the question: Does my travel behavior have a negative impact on the local culture or nature?
[1]
To clarify which effects mass tourism can have on a local culture, take this as an example: if you have traveled to Bangkok, you might have recognized the huge standardization of food, souvenirs, or accommodations. At nearly every corner you can buy the typical Thai pants with elephant patterns, get "Pad Thai" or buy t-shirts with the printing "Same, same, but different." Places like this are partly reconstructed to fulfill tourist expectations, leading at the same time to the loss of authenticity.
Moreover, Bangkok fights with many environmental problems that are partly caused by mass tourism. Air pollution, for instance, is mainly caused by vehicular emissions. According to a 2010 report of The Pollution Control Department (PCD), the levels of PM10 have exceeded national standards. [3]
The aim of sustainable tourism is to avoid such negative impacts whereever possible. With some small changes, we can all support the countries we visit and travel more responsible. If you want to know how you can preserve the beauty of our planet while traveling the world, consider the following tips on your next adventure and share them with other travelers you meet! ?
What did the British author Simon Reeve once say?
"Responsible travel is not only better for our world, it's also more interesting and memorable. Responsible tourism is the future of travel."
So, let's get ready for this small journey to a more sustainable world… ?
Travel More Ecofriendly with These 29 Simple Tips on Sustainable Tourism
General Tips for Sustainable Traveling
Stay longer at one place
Do you have time to travel for several weeks? Are there some other places close to your main travel destination that you've always wanted to visit?
Then take the opportunity to make daytrips to these places. This way, you'll reduce CO2 emissions. If you're always heading home after one destination and decide to travel to the surrounding places again later, you'll cause unnecessary CO2 emissions flying back.
Extra tip: Choose a flight with a longer stopover in another country to see more destinations using the same flight. An easy way to kill two birds with one stone! ?
Choose closer destinations
I'm sure you know the well-known saying "The grass is always greener on the other side". But must it be on the other side of the world? If you open your eyes to the small things in your surroundings, I'm sure you'll find many beautiful places that you haven't seen before – even in your own hometown.
In my article "How to live more consciously" you'll find some tips on how to discover your hometown with new eyes! ?
Try to fly less often or think about compensating your CO2 emissions
Flying can be much more comfortable than using other transportation. However, we all know that it's also the transportation method that uses the highest CO2 emissions.
The good thing is: if you still choose to fly, you can easily compensate your flight by donating money to different climate projects. The amount you pay is calculated based on your emissions. For example, the climate protection organization Atmosfair uses these donations to compensate greenhouse gases through renewable energies. Your contribution will support developing countries in which renewable energies hardly exist.
You can consider this as second best solution for traveling far if you can't avoid flying. The advantage of choosing another transportation method is, however, that you not only help our environment, but also get the possibility to see even more wonderful places on your way!
Travel with less luggage
Another way to reduce easily CO2 emissions is to take less with you. Leave behind things that you can also easily get cheap at your destination and take only necessary stuff with you.
Important Steps for Your Travel Preparations
Inform yourself about the country of visit
An important part of sustainable tourism is to understand and respect the local culture. Learning about the history and culture of a certain travel destination will give you a unique travel experience. You'll not only gain a better understanding for the local culture, but will also enjoy your trip with a little bit more background knowledge. What's the point of visiting a sightseeing without knowing even a slice of history about it?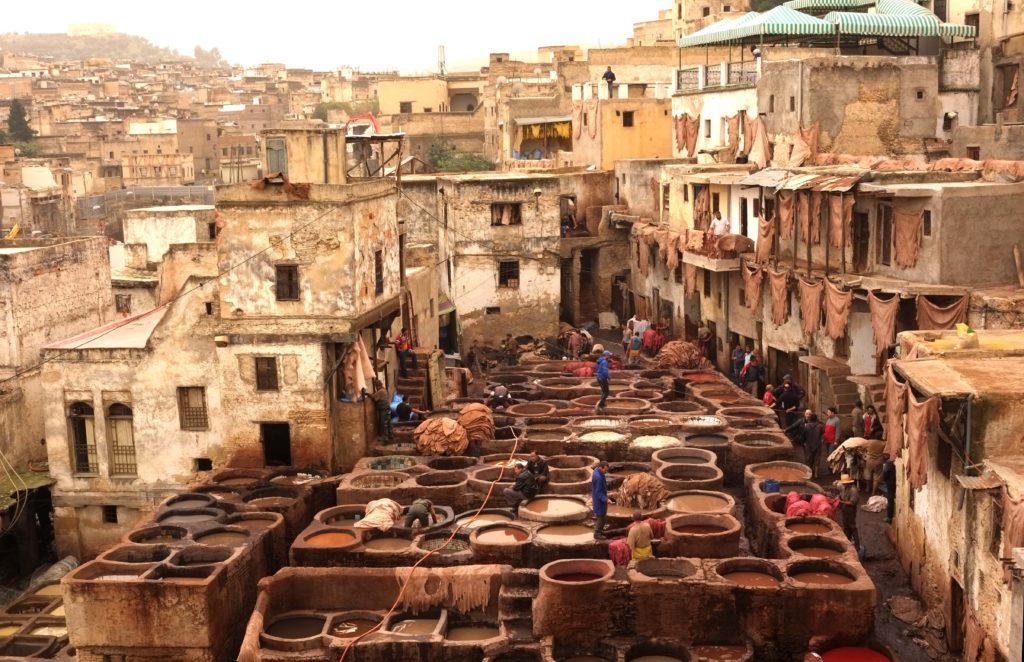 A great way to get closer with the locals is also to learn the basics of their language.
Extra Tip: I recommend the app Duolingo to learn a new language. You could also download a mobile dictionary and use it offline to look up vocabularies during your traveling.
Contact locals for insider travel tips instead of relying on commercial travel guides
Do you want to immerse yourself in an authentic way into a local culture and avoid mass tourism?
Take some time before your next trip to reach out to some locals. You can use, for example, the platform Couchsurfing to contact them or browse Facebook groups to find authentic information.
Tips for Finding an Accommodation that Supports the Principles of Sustainable Tourism
Avoid all inclusive and support the locals income in the countries you visit
Even though it might sound more comfortable to stay in an all-inclusive hotel, you'll exclude the locals from a big part of the tourism incomes. Many all-inclusive hotels also offer quite standardized food which is adapted to the western taste.
And isn't the fun and excitement behind traveling discovering new local dishes? ?
Choose an ecofriendly accommodation or stay in a local hotel
Choose a local hotel above a hotel chain. If you want to stay in an accommodation that supports principles of sustainable tourism, you can check out the website Green Pearl. These accommodations not only preserve the local nature, but also supoprt local economy and culture.
Check ecofriendly seals before you choose a hotel
To find out, if an accommodation supports the idea of sustainable tourism, check hotel websites for ecofriendly seals. Trusted certificates are for example from Tourcert (worldwide), Viabono (for Germany), EMAS (for Europe).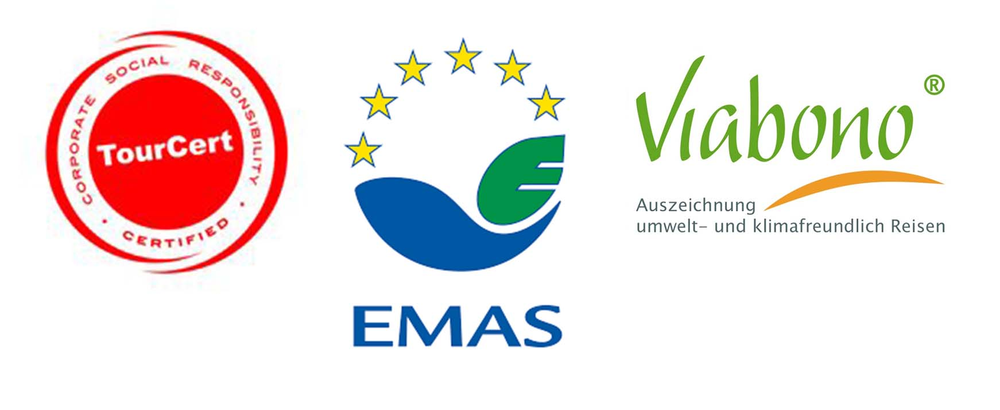 Small things to consider when you're staying in a hotel that can make a big difference
Use your towels several times
Did you know that luxury hotel guests use on average 1800l per night?[2] Showers and toilets account for the majority of a hotel's water usage. Afterwards comes laundry, which accounts around 16% of a average hotel's water usage. According to a study by the American Hotel and Lodging Association, hotels that encourage their guest to do towel recycling, lower their water consumption costs by 17%. [4]
Therefore, think twice the next time you're staying in a hotel about washing your towels every day. You can easily contribute to saving water and energy by reusing your towel several times.
Most modern hotels use an energy saving scheme, turning off the electricity when guests remove their key from a docking station, reducing energy consumption by 30%. [5]
If this energy-saving technology doesn't exist in your hotel, always think about turning the lights off and unplugging your electricity when leaving the room. An uncomplicated way to reduce your energy usage!
Only use the air conditioning if necessary
Better open the window at night if you can survive without the AC. Air conditioning systems have a high energy demand and therefore add enourmously to CO2 emissions.
Let this sink in as an example of the excessive usage of air conditioning:
The US uses as much electricity for air conditioning as the whole continent Africa uses for all its electrical need. [6]
Extra tip: Instead of turning the AC on, hang a wet towel in front of your window to cool down the room. While it's drying, heat is extracted from the air leading to the cooling of the room.

How to travel ecofriendly from point A to B
Choose ecofriendly transportation methods
Is your destination reachable without a car?
It can be even more fun to discover a city with a bike, by foot, longboard, inline skates or whatever. You'll discover many small corners that you wouldn't have discovered with a car. Moreover, it's not only a more sustainable, but also healthier method to travel.
I totally agree with Peter Gokin's notion:
"My two favorite things in life are libraries and bicycles. They both move people forward without wasting anything."
Many modern cities also offer e-bike rentals which are far less expensive than renting a car. If your destination is reachable by water transport, why don't you decide to take non-motor sail trip? This could be an adventure of a different kind! ?
Use public transportation or rent an electric car
Using public transportation significantly benefits the environment by reducing the number of cars on the street.
According to studies of The Federal Transit Adminstration (FTA) report in 2010…

the private use of a car emits 0.96 pounds CO2 per passenger mile
bus transits emit 0.64 pounds CO2 per passenger mile
heavily rail transits (e.g. metros and subways) produce about 0.22 pounds CO2 per passenger mile 76% less in greenhouse gas emissions than an average single-occupancy vehicle
traveling by public transportation reduces carbon dioxide emissions by 37 million metric tons annually [7]
As you can see, you can easily contribute to the practical realization of sustainable tourism by using public transportations. Another great idea is to rent an electric car, if you have the opportunity.
How to be a responsible eater and choose your food wisely
Global food production contributes annually between 14 to 22% of total CO2 emissions including these from animals, food transportation, fertilizer use and deforestation. As a sustainable traveler, we should therefore choose our food wisely. [8]
Try organic restaurants with locals produce
Just like when your choosing a hotel, restaurant selection plays a big part in sustainable tourism. By choosing a local restaurant you'll continue to benefit the local economy and community. On top of that, you'll discover the authentic local food and immerge fully into a new culture!
If there are sustainable restaurants available, you should support them. Inform yourself beforehand about sustainable places to eat out. Where do restaurant owners get their food from? What food choices do they offer? In many countries, vegetables and fruits are planted on organic farms and are used in the local restaurants.
Buy your food from local markets instead of international supermarkets
By visiting local markets you'll find more fresh, organic, local foods and will get into direct contact with venders who are often also the same time local farmers. If you're interested in what people traditionally eat or how the food is produced, a stop at the local market should be on your travel to-do-list!
Avoid eating endangered animals
Did you know that our oceans are being overfished by a rate of 40% [8]
There is food that some people consume regularly which belongs on the list of endangered animals. Pangolins, sharks, turtles or certain types of fish, like Red Tuna belong to this list. Although it's exciting to try out new food, you should inform yourself in advance which animals shoud be left in the wild.
The website Seafoodwatch listed the seafood that you should avoid eating.
Buy local products instead of imported ones to support local businesses
If you buy handmade products instead of imported ones, you're not only showing your appreciation for the individual artisan's work, but also helping the local economy by supporting local business owners who produce quality products.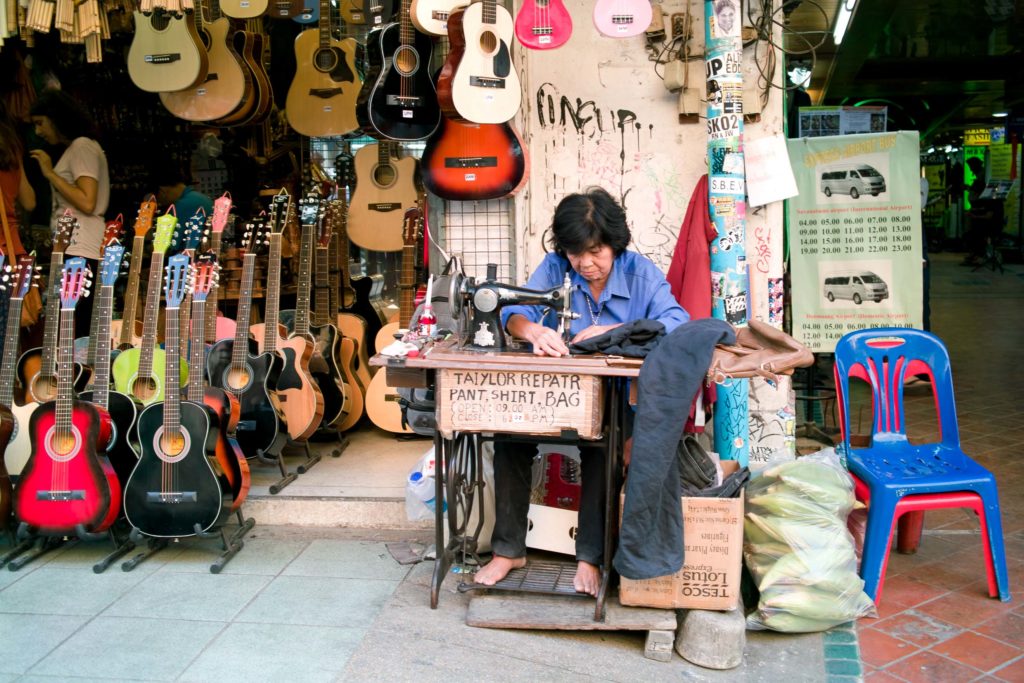 There's also sometimes interesting traditional history behind handmade products. It's always interesting to find out how they're produced and how they're linked to the past. And isn't it sweeter to buy something that has been made in a traditional way with love than a mass produced product that you can buy anywhere? ? Imported products are often cheap labor products from low wage countries which have been transported from far away countries.
Support local charities
Look for some local charities that could use your help. If you don't have much time to volunteer, you could also simply promote their idea on social media platforms or donate some money for their project.
Give appropriate tips to locals
In many countries, people only earn low wages and are therefore reliant upon tips. If you liked the food in a restaurant or the city tour of your guide, you should give them a small tip to support their business.
BUT: Always inform yourself about tips in your travel country. In some places, it's seen as an offense to give tips.
How to Involve the Locals in the Idea of Sustainable Tourism
In many popular travel countries, people aren't well educated about protecting nature. However, there are some ways how you can involve local people directly into environmental projects and help them to develop a feeling for our environment.
I spent six months in Dahab in Egypt and took part in some environmental projects which helped locals to understand the importance of preserving our nature. So what can you do to spread the idea of sustainable tourism as a traveler?
Go to schools and teach kids about sustainability
Environmental problems are caused mainly because many people lack an awareness and are disconnected with our nature. The best we can do is create a better consciousness for the beauty of our planet, starting with children.
You could go to schools in your travel destination and teach children about our nature. A good way to evoke their interest is by encouraging active participation. Think about some games you could play with them to get them involved or show them short documentaries.
Organize clean ups or recycling projects with the locals
When I was living in Dahab, I organized a beach clean up with my former work place CoworkInn Dahab and supported amongst others the environmental project Dahabibi of my friends whose main aim was it to create an environmental awareness for Dahab's beauty.
How did we motivate people to join the beach clean up in Dahab?

For the beach clean up, we created a Facebook event and invited locals to join. We promoted the event mainly over our social media platform and posted it in several local Facebook groups. Moreover, a friend of mine from Digital Nomad Souls went to some schools in Sharm-El Sheikh to invite classes to join the beach clean up. The project was very successful: in the end we had over 70 participants including two school classes taking part in the event and we filled over 20 big trash bags!
The most beautiful thing was to see how much fun the children had during the beach clean up. We went live on Facebook and sang some Arabic songs together while collecting trash on a 2km route.
The DIY-Recycling Festival of "Dahabibi" – more rubbish bins for Dahab!
My friends Brit and Dido started a non-profit environmental project together called Dahabib". In March 2017, I joined their successful DIY recycling festival where they collected car tires to create new rubbish bins for Dahab.
For the fesival, they invited some musicians, children, travelers and locals who all took part in this amazing project. Together we painted rubbish bins which was not only fun for the children, but also for the adults.
I'm sure that you can also start great projects like that! It only takes a few days to get everything organized and make a big difference for the community and local ecosystem.
Ideas to reduce pollution directly
Collect more trash during your travels
It's a simple way to reduce rubbish: take a big bag with you and collect some rubbish when you walk across the city. Many divers also collect rubbish that they find under water.
Use your own water filter bottle to reduce plastic
In many countries, there's no recycling for plastic bottles. Therefore, you'll do the nature a big favor if you buy your own refillable water bottle to reduce plastic rubbish. That way you have access to clean drinking water everywhere you go and even save money.
Bring your own bag instead of using plastic bags
Although many western countries have introduced a fee for plastic bags, many countries still hand them out for free and reinforce environmental problems like the killing of wildlife and clog of waterways.
In the year 2014 alone, over 250,000 tons of plastic floated in our oceans. [9]
Therefore, next time you go shopping, bring you own bag instead of using plastic bags.
If you're going to a food market, bring your own dishes
A lot of plastic waste is created at local food markets. In Dahab, we tried to make it a habit to bring own dishes with us to reduce plastic rubbish. It's also practical, to carry a pocketknife around. :)
Respect the culture<
Always ask before taking a picture
It's exciting immerse yourself into a different culture and to take spontaneous photographs. Excited, I've sometimes taken photos at inappropriate time. This can make a very bad impression – therefore, respect the locals and ALWAYS ask them if you can take a photo.
Try to adapt to the culture
Even though it might feel strange for us to wear long clothes when it's over 30 degrees, we should respect different cultures and adapt to them. May it be a way of dressing or some other cultural behaviors – the adaption to these cultural customs belongs to the excitement of traveling and the process of learning! ?
Think twice about giving money to begging people
It can be hard to find "the right way" to deal with beggars because we never know about their real motives. Are the people really "regular" beggars or do they belong to a criminal group? Some beggars, especially handicapped people, women with babies or children are being exploited recklessly, so that I would always be careful to give money to begging people.
If you want to help these people, I would always give them food instead of money to avoid the promotion of a begging culture. An even better way is to give the money to a trustable aid agency.
Conclusion: Small Changes in Our Traveling Behavior Have a Huge Positive Impact on Our Planet
"The most effective way to save the threatened and decimated natural world is to cause people fall in love with it again, with its beauty and its reality."
– Sir Peter Scott
We all leave our footsteps when we go traveling. Since the modern world offers us so many ways how to travel the world, we can make our own decisions how to experience different places with its unique cultures.
As passionate travelers, it's our responsibility to respect and preserve the beauty of our world and different cultures. I know that it's tough to consider every single tip, but if you only put a few of these tips into practice, you'll easily eliminate many negative impacts that we often make as uncritical tourists.
Do you have more tips on sustainable tourism or have made any experiences? I'm looking forward to your comment!